过期时间:

03:15:43:09

(剩余优惠券: 55)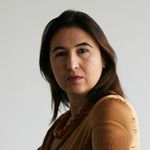 Zara Audiello
意大利
•
10:16 AM (GMT+02:00)
教师数据统计
很快
5 年前
100.00%
0
0.0 课程均价
新老师
简历

教育
Course for Curators of events
Public Center of Contemporary Art A+A - Venezia, Italia
focus on Art Management and cultural event
Master in Educazione Interculturale
Universita' di Roma III - Roma, Italia
Approccio all'insegnamento a studenti stranieri.
Laurea in Scienze Umanistiche.
Università "La Sapienza" - Roma, Italia
Focus sul cinema, il teatro e la cultura Italiana contemporanea.

工作经历
Scuola Gianni Rodari
Scuola Gianni Rodari - Belgrade, Serbia
Focus on Italian language and culture
Director
Beo_Project - Belgrade, Serbia
Beo_Project is one of the first international project space in Belgrade. The collective provides a platform for the exchange of ideas within the intersection of different artistic disciplines. The main focus is to create a space for artists and curators where is possible to share ideas and work, exhibit and perform.