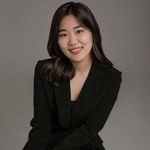 YEAEUN
韩国
•
1:24 PM (GMT+01:00)
关于我
Hello students!
I am Yeaeun, or you can call me Grace.
안녕하세요, 저는 예은입니다.

Learning a new language has always been a thing that thrills me - hence I wanted to share this passion with others by teaching them a language.

Throughout four years of Korean teaching experience both online and offline, I have met students of different ages with different needs, and I loved interacting with my students and helping them gear up their Korean skills. My classes will be tailored to your personal needs and to the reasons why you are learning Korean.

Haven't made up your mind yet? All you need to do is to knock on the door!

Feel free to leave me a message and share what you would like to learn from this Korean class!

*****Class policy*****

1. Lesson time
60 minutes -> 55 minutes
30 minutes (trial lesson) -> 27 minutes
The spare time is used to prepare for the next lesson.

2. Lesson Rescheduling
All the lessons could be rescheduled 2 hours before the lesson time.

3. Lesson Cancellation
You should provide lesson cancellation notice at least 24 hours before the lesson start time. All absences without prior notice will be charged with a full lesson credit.

4. Attendance
If you are late for the class, there will be no supplementary minutes of class for the missing time.
If there is no prior notice about the absence or late for the lesson, the class will be automatically canceled after 15 minutes of the lesson time.
The trial lesson will be automatically canceled if the student does not show up after 10 minutes of the lesson time.
更多
我的体验课
During the trial lesson, we will have 20 minutes of free-talking style conversation and plan our further lessons together :)
更多
教师数据统计
一天之内
4 年前
99.00%
153
6.6 课程均价
5.0
简历

工作经历
Korean and English Community Tutor
已验证
Italki
Provided Korean and English classes as community tutor
English instructor
IMAX, English institution - Seoul, Korea
Korean tutor for foreigners in Seoul
已验证
한국어 교육 및 한국 문화 교류 자원봉사단 아토 ATO - Seoul, Korea
Organized tutoring program from January 2017 / Started tutoring Korean to foreigners from April 2017
查看更多教授该语言的老师: