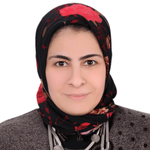 Amira Said
埃及
•
11:48 PM (GMT+02:00)
关于我
Hello I'm Amira from Egypt. I graduated from faculty of education department of English and I've taught English as a second language in my country for years. I have experience in teaching both English and Arabic as I taught in Al Azhar school in Egypt. I worked as a translator of Arabic and English in my country and on line. I have been teaching Arabic online for about 3 years. I taught on many platforms and I did more than two thousand lessons online. I'm proud of seeing many students do significant progress with me and of making some good friends from other countries. Generally I have a passion for languages and I have good experience in teaching both modern standard Arabic and Egyptian colloquial dialect which is the most popular dialect in the Arab world. I've worked with my students on many text books according to their needs and their study courses. I also use grammar books and add material to make sure the teaching process is not lacking. I can help you develop all your language skills, and I will help you to improve nicely with grammar. So if you need someone who can explain and introduce Arabic content in English then what you need exactly is me. If you have a certain text book and need someone to work on it with you then I'm a good choice. And as a native speaker I'm sure I can help well with conversation practice.
Text books I worked on:
Arabic between your hands
At-takallum
Al kitab al assassi
Lughatuna Al fusha
Kallimni Arabi series
And a combination of books for grammar and exercise. And I'm never tired of preparing lessons from other books on demand.
更多
教师数据统计
几个小时之内
5 年前
100.00%
271
13.2 课程均价
5.0
教学专长
Modern Standard Arabic (al-fusha)
简历

教育
B.A. of Education department of English
Tanta universitty, college of Kafr-Alsheikh - Kafr Al-Sheikh
Graduated from faculty of education university of Tanta

工作经历
Taught Arabic, Quran and English in kindergarten
Al rehab kindergarten - Fuwwwa, Kafr Alsheikh
Taught Arabic, Quran and English in kindergarten as I did the public sevice there for a year.
Did public service in Al Rihab kindergarten
Al Rihab kindergarten - Fuwwa
Worked as assistant techer helping kids with English, Arabic and Quran
Teaching Arabic on Preply
Preply Website - Preply, Internet
Working with the name Suzan Said on Preply.
Professional Arabic teacher on Italki
Italki Website - Italki, Internet
I worked as a community teacher on Italki then uploaded certificates and joined professional teachers. I worked therre for a bout a year but mt rate of work is good.
查看更多教授该语言的老师: