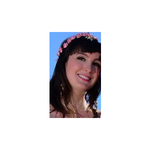 Ashley
墨西哥
•
12:53 AM (GMT-07:00)
关于我
Hello! My name is Ashley and I am from the United States! I currently live in Mexico & I have taught English online for over 8 years. I have a certificate in TESOL. I prefer a casual & comfortable classroom environment, so if you want to have a conversation while you improve your English pronunciation & grammar, come practice with me!

*Private tutoring
*Grammar
*Conversation with error correction

*I also have the Interchange and Passages ebook series we can use if you want a traditional class style.

Hola! Me llamo Ashley y soy de los Estados Unidos! Actualmente vivo en Mexico y he dado clases de inglés por más de 8 años por internet. Tengo un certificado en TESOL. Me gustan que las clases sean un ambiente cómodo y casual entonces si quiere tener una conversación y aprender más inglés para mejorar su pronunciación y gramática, venga usted a practicar conmigo! Me encantaría conocerle y ayudarle mejorar su inglés!

*Tutora privada
*Gramática
*Conversación con corrección de errores

*También tengo el serie de libros en línea de Interchange y Passages por si le interesa una clase de estilo tradicional

更多
教师数据统计
很快
8 年前
100.00%
908
34.9 课程均价
5.0
简历

教育
Paralegal Degree
Duke University - Durham, North Carolina
Academic Certificate to work as a paralegal/legal assistant in the United States. This program covered a variety of legal topics and procedures performed in this profession.
Spanish Language Bachelor of Arts
Universty of North Carolina at Charlotte - Charlotte, North Carolina
Bachelor of Arts degree in the Spanish language with an emphasis on Mexico and Latin American studies, history, linguistics and literature. I also took courses in American Linguistics.

工作经历
ESL Educational Consultant
Open English - Los Cabos, Mexico (online)
Academic Specialist & virtual English as a Second Language teacher. I work with students from true beginner to advanced levels. I teach classes which cover pronunciation, grammar, conversation, and reading skills. I also assist with additional tasks, such as online live instruction support & writing articles.
English Language Volunteer
University of Veracruz - Xalapa, Veracruz, Mexico
I worked as an English Language Volunteer at the Language Center at this university where I assisted students with their English language needs.

认证/证书
Teaching English as a Second Language (TESOL)
TESOL Organization - United States
Online teacher certification program from the official TESOL organization in the United States.
查看更多教授该语言的老师: