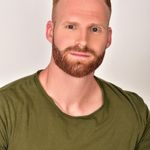 Chris Heller
哥伦比亚
•
2:30 PM (GMT-05:00)
关于我
Hey nice to meet you! My name is Chris and I could be your personal German teacher! First I want to tell you a little bit about my qualifications as a teacher. After I finished university (2010) and the so called "2.Staatsexamen" (2012) I could start working as a teacher. So I'm working as a German teacher since 2012. In the beginning I worked in the public school system in Germany for six years and at the moment I work at a school abroad, obviously also as a German teacher.
Learning new languages means a lot to me. Learning a new language opens opportunities and expands our view. It helps communicating with people from all over the world and every language class is also a culture lesson.
Meanwhile I'm an expert in teaching German as a second and foreign language. I'm teaching all levels from beginners (A1) to experts (C2) and I'm willing to fit your classes exactly for your special needs. In the last two years I prepared and examined a lot of students for the exams of the Goethe Institute (A2, B1, C1, C2) so that I do have a big knowledge of these exams, just in case you want to prepare yourself for a certification?!
If you're looking for a professional German teacher who provides structured clases and fun while learning, I'm the perfect teacher for you!
更多
教师数据统计
几个小时之内
3 年前
100.00%
1.282
16.5 课程均价
5.0
简历

工作经历
Lehrer
DaF - Lehrer im Deutschen Auslandsschulwesen - Medellín, Kolumbien
Tätigkeitsschwerpunkt DaF Niveau A1 - C2
Deutschlehrer
已验证
Schuldienst als Beamter - Staatliches Schulsystem Baden-Württemberg, Deutschland

认证/证书
Lehrer
已验证
PH Freiburg / Seminar Rottweil - Baden-Württemberg, Deutschland
1. und 2. Staatsexamen für das Lehramt mit Fach Deutsch
查看更多教授该语言的老师: