过期时间:

03:01:59:38

(剩余优惠券: 44)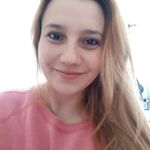 Maria -Ifigeneia Roussou
希腊
•
12:55 AM (GMT+03:00)
关于我
*Hello everyone,
my name is Maria-Ifigeneia. I am a native Greek speaker, and I live in Greece. For the past four years, I lived in London, where I taught the Greek language. I have graduated from the department of philosophy, pedagogy, and psychology of the University of Ioannina, which certifies me as a Greek teacher.
I love learning languages and making connections between them. Although all languages are different, there is always common ground to work on.
I speak English and am a beginner in French and Spanish, so I can understand the struggle of learning a new language! It takes a lot of patience and dedication.

*After I graduated in 2011, I started teaching both the modern and the ancient language to Greek students as a preparation for their school exams. Along the way, I decided that I wanted to teach Greek as a foreign language, and since then, this has been my full-time job.

*In our lessons, we will explore every aspect of the Greek language, from its grammar to its culture and history.
The material will be tailored to your needs, as each student is unique and will be given to you by me in every lesson.
We will practice reading, speaking, and grammar, but also the ability to create your speech! After all, this is our ultimate goal.
After each lesson I will give you homework, so you can practice everything you learned during the lesson.

I will always be at your disposal for any question you may have. Just send me a message.

*Book a trial lesson with me, so we can discuss your goals and the best way to reach them.
I know learning Greek is challenging, but I am here to help you learn it and make this journey fun, easy and interactive.

I am looking forward to meeting you!!
更多
教师数据统计
几个小时之内
3 years ago
100.00%
476
19.2 课程均价
5.0
简历

教育
Philosophy, Education and Psychology
已验证
University of Ioannina - Greece
The department gives the qualification on teaching the Greek language and also focuses on Psychology.
查看更多教授该语言的老师: