过期时间:

03:01:12:09

(剩余优惠券: 44)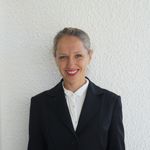 Maryna Dzeraviashkina
土耳其
•
1:42 AM (GMT+03:00)
关于我
Hello Everyone!
My name is Maryna and I have a great passion for languages, especially for German: I love it for beauty of sounds, for nuanced meaning of verbs and for its famed order. And I want to share this passion and knowledge with you!
Let's study German in tune with your goals!
I am teaching foreign languages for 7 years already. It is my hobby, that makes me happy. I worked at language schools with children and adults, I gave private lessons and since 2019 I teach online.
* I prepare my students to Goethe exams from A1 to C2, to ÖSD as well to Telc, DSH and TestDAF.
* I give lessons of Business German due to my university background (International Economic Relations and Interpreting)
* We make practice in communication and I help you to improve your grammar.

I appreciate your time and I aim to give you as much knowledge as you can learn for one lesson.
更多
教师数据统计
一天之内
3 年前
92.00%
416
16.4 课程均价
5.0
简历

工作经历
Teacher of German language
BILNET Private School - Bodrum, Turkey
Teaching German to 6th graders
Teacher of German language
Step by Step Language School - Mogilev, Belarus
Giving German lessons to the group of adults

认证/证书
Goethe-Zertifikat C2
已验证
Goethe-Institut - İzmir, Turkey
查看更多教授该语言的老师: