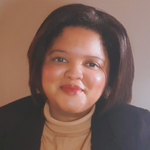 Meagan
南非
•
10:27 PM (GMT+02:00)
关于我
My name is Meagan and I am a passionate and experienced online English teacher with a proven ability to help students of all levels improve their English skills.

I have been teaching English for over 2 years, and I have a TEFL certificate and a Degree in Fashion Design. I consider myself to be a creative, friendly and empathetic teacher. I am skilled in delivering engaging and effective lesson plans, and I am proficient in using a variety of online teaching platforms and tools. I am also an excellent communicator and have a strong understanding of intercultural sensitivity.

I am dedicated to providing you with the best possible learning experience. I believe that learning should be fun and engaging, and I use a variety of methods to keep students motivated and interested. I am also patient and understanding, and I am always willing to help students who are struggling.

I understand that you may have concerns about choosing the right English teacher. I want to assure you that I am committed to providing you with a high-quality education. I am confident that I have the skills and experience necessary to help you reach their full potential in English.

I am excited about the opportunity to teach you English, and I look forward to hearing from you soon.

更多
教师数据统计
很快
22 天前
100.00%
0
0.0 课程均价
新老师
简历

教育
120 Hour TEFL Certificate
已验证
TEFL Solutions
The course helped to develop my skills in Online Teaching, Teaching Business English, Teaching Young Learners and Adults, Teaching Methodology, Lesson Planning, Classroom Management, Assessment & Testing, Advanced Grammar etc.

工作经历
Online ESL Teacher
已验证
International Language Institute - Poland
Taught Conversational English, Business English and General English online lessons to adult students of various levels. Created my own lesson material and lesson plans, which were engaging and effective. Gave students homework and provided feedback to help them improve their English skills. Handled administrative tasks such as taking class registers and invoicing. Created and graded assessments to measure student progress and identify areas for improvement.
Online ESL Teacher
The Really Great Teacher Company - Hong Kong
Taught and assessed the English of adult students in online classes of up to eight students. Implemented strict time management during lessons and maintained a high student satisfaction rate. Developed and enforced classroom management policies to ensure a positive learning environment. Demonstrated strong computer literacy skills by using a variety of online teaching platforms and tools. Developed and maintained effective communication and interpersonal skills by interacting with students from different cultures and backgrounds.