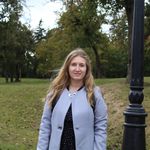 Svetlana
白俄罗斯
•
5:26 AM (GMT+02:00)
关于我
Hello,
Looking for a Russian language instructor? Do you want to be a multilingual person? Or would like to brush up your pronunciation skills?
Hello,
I am an ambitious, hardworking and professional teacher with a Bachelor's degree in Linguistics with a specialization in English and Russian. My goal is to improve the productivity of people, along with their language, social and cultural values. I always try to create an atmosphere where the students can relax and express themselves freely.
During lessons with my student, I focus on the language you wish you learn with an emphasis on speaking. The main aim is to make you feel confident. As per trial lessons, we will discuss the areas which require improvement and determination of your oral ability. However, you might not be willing to taking lessons from me but it will surely provide you with a better opportunity for clarification what can make you better than best! My teaching style is mainly based on the communicative approach.
Come forward, book a trial and learn something new!
更多
教师数据统计
一天之内
7 年前
100.00%
131
10.7 课程均价
5.0
简历

教育
Бакалавр лингвистики, преподаватель английского и французского языка, преподаватель русского языка как иностранного(РКИ)
МГЛУ - Минск, Беларусь
Факультет английского языка

认证/证书
English grammar in context
Open University
TEFL
Teaching Nomad - Shanghai, China
Teaching English as a Foreign Language
Educational Technology for Student Success
Linkedin
Technology can play a critical role in the classroom, promoting engagement and knowledge retention. Here Renaldo Lawrence has assembled a list of practical educational technologies that are easy to incorporate into instruction and will help students be successful both in and out of class.
Advanced Grammar
Linkedin
In this course, Judy Steiner-Williams helps to review basic grammar rules and then focuses on more advanced grammar principles such as using correct words, locating incorrect grammar in sentences and paragraphs, and reviewing parts of speech, punctuation, and proper sentence structure.
How Teachers Can Use a Smart Board in the Classroom
Vilniaus lietuvių namai - Vilnius, Lithuania
How Teachers Can Use a Smart Board in the Classroom
Communicative approach in teaching English
Minsk State Linguistic University - Minsk, Belarus
This 36-hour course explained what is "communicative approach" and different techniques of teaching English as a foreign language.
English in the world today
Open University
This 8-hour free course explained why it is that the English language continues to be such an important social and political instrument worldwide.
查看更多教授该语言的老师: