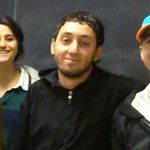 Mohamed Ahmed Abdelsalam
مصر
•
7:17 PM (GMT+02:00)
يتحدث
متحدث أصلي
,
متحدث أصلي
,
B1
,
A1
عني
الْسَّلامِ عَلَيْكُمْ
I am Mohamed from Egypt. I have been teaching English and Arabic for since 2013. I was an Arabic teacher at Fairfield University and I studied Language Education Technology class in the United States to experience teaching online. In addition, I attended language education workshops. I also worked as an Arabic writer and wrote more than 200 articles.
I love seeing students speak Arabic fluently and confidently. I am creative and passionate about teaching Arabic through culture, so no matter what you want to learn or talk about, I am ready to teach you any book for whatever purpose you study Arabic for. I will hand-write directly on your screen and send you the papers.
Please contact me if you have any questions. Ahlan wa sahlan, I cannot wait to meet you.
Available Courses:
- Arabic Conversation with Focus on Egyptian Dialect.
- Arabic Grammar of Qur'an and Tajweed.
- Modern Standard Arabic for General Purposes.
- MODERN STANDARD ARABIC FOR COMMUNICATION PURPOSES.
- Essential Arabic Grammar.
- MSA Advanced Conversation and Grammar.
- Modern Standard Arabic for Religion Purposes.
- MSA for kids, heritage speakers, and religion learners.
قراءة المزيد
درس تجريبي
One time, 30 minutes
Teacher Stats
Within a few hours
منذ ٩ أعوام
42.00%
225
18.9 lesson average
5.0
خبرات التدريس
فوق المتوسط
مُتقدم
فوق المتقدم
Egyptian Arabic
Gulf Arabic
Modern Standard Arabic (al-fusha)
السيرة الذاتية

التعليم
Language Education Technology - Fairfield University
This course is designed to give teachers a hands-on introduction to many of the technological Web 2.0 platforms that exist today. In delving into various technological platforms, I can examine current curriculum and employ various tools to make classrooms more in line with today's learner. This course covers a series of Web 2.0 tools: Wikis, Google Docs, Prezi, Skype and much more. I also got a chance to use<br />technology tools such as iPads & Smartboards. This course is designed for classroom and online teachers.
Fulbright
2. A workshop in Washington D.C about teaching foreign language.
United Nations
1. A conference in the United Nations about education.
Minufiya University
Bachelor degree in Journalism and Communication.

خبرة العمل
Fairfield University
I was a Fulbright scholar in the United States. I conducted several cross cultural workshops, which contributed to creating cultural awareness and promoting language learning.<br />I worked as an Arabic teacher at Fairfield University in Fairfield city, CT as a part of Fulbright FLTA program. I taught elementary and intermediate students Modern Standard Arabic and Egyptian accent. In addition, I completed one fourteen-hour workshop and one refresher workshop in (AT/OPS) program based on the Dartmouth intensive language model implemented at Fairfield University.
English Teacher
I worked as an English teacher for almost 3 years in El Abbassia Model Secondary School for hotels and tourism.

شهادات
Bright Minds
TEFL diploma (Teaching English as Foreign Language) certified from Oxford University.
الق نظرة على مزيد من المعلمين:
درس تجريبي
One time, 30 minutes