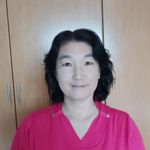 Nami
اليابان
•
11:17 AM (GMT+01:00)
يتحدث
متحدث أصلي
,
B2
,
B1
,
A2
عني
【Specialized for beginners and conversation class / Over 16 years of experience】
Hello! My name is Nami. I was born and raised in Japan. I'm from Osaka.
Since our family used to host students, I have experience interacting with international people. After graduating from university, I worked on travel-related work. I've been to many countries both on work and in private. I live in Spain now. I love meeting new people!

About 16 years ago, I started to teach Japanese. I also worked as a Japanese teacher at a language school. I have experience teaching Japanese in group and private lessons for people of all ages. I understand by my own experience how difficult it can be to learn a language. I would like to help you achieve your goals at your own pace.

My teaching style is patient. I want my students to feel comfortable and enjoy the class. I believe in a relaxed, conversational style lesson. My lesson is based on "conversation in Japanese". I think it's important to get used to listening and speaking Japanese. I may use materials to supplement based on student needs and interests. I am a very easy to talk to, patient and flexible teacher. In my class, we can start from basic Japanese, or if you would like to, we can practice conversation even in Kansai-ben.

【Beginner course】
This course is to learn general Japanese for those who are beginners or don't know anything in Japanese. I will customize our classes based on your current level and needs.
1. We will start with Japanese characters Hiragana and Katakana lessons with my teaching materials (PDF files, slideshow, Flashcards).
2. I can provide you PDF files of the textbook and workbook, also some additional materials according to the lessons.
3. Homework included for the students who want to practice more to improve faster.

【Japanese conversation practice 日本語会話】
Let's practice natural Japanese speaking and pronunciation.
This lesson is suitable for :
- Learners who want corrections on your grammar mistakes and unnatural expressions.
- Learners who want to focus on a casual or polite way of speaking.
- Learners who want to improve their speaking and listening skills by practicing conversation with a native Japanese speaker.

*Please let me know your Japanese level and learning experience.
*Book my trial lesson before taking this course, and we will make a lesson plan for you.

If you have any questions please feel free to contact me.
I am looking forward to seeing you!
قراءة المزيد
درس تجريبي
One time, 30 minutes
Teacher Stats
Very quickly
منذ عامين
100.00%
298
16.2 lesson average
5.0
خبرات التدريس
فوق المتوسط
مُتقدم
فوق المتقدم
السيرة الذاتية

التعليم
Bachelor
OC university - Japan

خبرة العمل
Japanese teacher
Verified
Academia M - Spain
Group and private lesson for children and adults.
الق نظرة على مزيد من المعلمين:
درس تجريبي
One time, 30 minutes