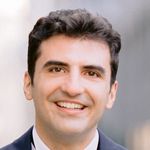 Valerio Sapienza
إيطاليا
•
1:32 AM (GMT+02:00)
يتحدث
متحدث أصلي
,
B2
,
B2
,
B2
,
B1
عني
Hello, my name is Valerio, and I am a native Italian speaker born and raised in Turin, Italy.

###
I have been teaching online for three years, ( about 1950 lessons with 75 students , 26 lessons per students on average ).

About me
I am a programmer and love philosophy, meditation, and everything related to self-development. I enjoy watching movies, learning languages, and spending time with my friends.

Feel free to contact me with any questions you may have. See you soon!

Me as a Teacher
I think the most important part of teaching is human contact. I like to put my students in a comfortable and trusting environment.
Also, it is essential that you talk: the more you speak, the more mistakes I can find and the more new expressions and pronunciation tips can be taught.
I'm patient and friendly: the primary and most important reason to take this type of class is to find an opportunity to practice. Therefore, you need someone who is understanding, who you won't feel embarrassed to talk with, especially if you are a beginner.

My Lessons & Teaching Style
The content of the class is flexible: students have different backgrounds and learning styles.
So we will discuss and set your learning targets in order to tailor our lessons to your unique needs.
If you don't have specific preferences I like you to speak about what you are interested in: I believe that languages should be a vehicle and not an end in themselves.
While you speak I write the corrections so you can see them live but are not interrupted and you can speak freely and it will be just like talking to a friend!

My Teaching Material
PDF file
Text Documents
Audio files
Image files
Video files
Flashcards
Articles and news
Homework Assignments
Quizzes
Test templates and examples
قراءة المزيد
دروسي التجريبية
In the trial lesson we will introduce ourselves, I will understand your level and what skills you want to improve, and I will show you my way of teaching each of these skills.
قراءة المزيد
درس تجريبي
One time, 30 minutes
Teacher Stats
Within a few hours
منذ ٣ أعوام
100.00%
84
25.0 lesson average
5.0
خبرات التدريس
فوق المتوسط
مُتقدم
فوق المتقدم
السيرة الذاتية

خبرة العمل
Italian Tutor on line
Verified
Italki
I taught 1500+ Italian classes with about 65 students (5/5 feedback)
الق نظرة على مزيد من المعلمين:
درس تجريبي
One time, 30 minutes