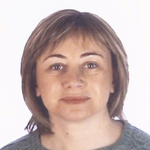 Aina Rodriguez
Espagne
•
5:13 PM (GMT+02:00)
Parle
Langue maternelle
,
C1
,
B1
À propos de moi
Hello! I My name is Aina and I a native Spanish teacher.
I have a master's degree in Teaching Spanish as a Foreign Language and have taken part in a wide variety of courses related to SFL teaching, which have helped me not only to further my training and keep my skills up to date, but also to improve my teaching performance.
In addition, I have extensive experience in preparing teaching materials, which have been presented in teacher-training workshops.
Furthermore, I have worked as a Spanish teacher at the Cervantes Institute in Salvador de Bahía (Brazil) and as a Spanish language assistant in Paraíba State University (Brazil). In the latter institution I was also responsible for the DELE (Diplomas of Spanish as a Foreign Language) examinations and had the opportunity to participate in the implementation of the tests as chief examiner.
In the preparatory courses for the DELE exam, the student will get familiar to the DELE and will develop the necessary skills to perform well in the exam. I like alternating theory with practical lessons.
The general Spanish lessons are flexible and based on the student's level, tastes and needs.
The main goal of these lessons is to get the student acquire communicative skills to manage in different real-life situations. Moreover, we will work on the four communicative skills: reading, listening, writing and speaking through real materials or materials adapted to reality. Grammar explanations are always included.


En savoir plus
Cours d'essai
Une seule fois, 30 minutes
Cours particuliers
60 minutes
Stats professeur
Sous quelques heures
il y a 6 ans
100.00%
1 323
30.9 moyenne des cours
5.0
Expérience d'enseignement
Débutant
Débutant supérieur
Intermédiaire
Intermédiaire supérieur
Confirmé
Confirmé supérieur
CV

Éducation
Cursos online de capacitación de examinadores para el Diploma de Español como Lengua Extranjera (DELE). Niveles A1 y A2, B1 Y B2.
Instituto Cervantes - Madrid
Cursos de formación para ser examinador del examen DELE
Máster en Enseñanza del Español como Lengua Extranjera
Universidad Rovira i Virgili de Tarragona - Tarragona España
Enseñanza de español a extranjeros
Seminarios de capacitación de examinadores para DELE – Niveles C1 y C2
Instituto Cervantes - Salvador de Bahía (Brasil)
Cursos de formación para ser examinador del examen DELE
Curso Formación de Tutores del Aula Virtual de Español a Distancia (AVE)
Instituto Cervantes
Cursos de formación para profesores de E/LE
Curso Actualización y Perfeccionamiento Didáctico para Profesores de E/LE
Instituto Cervantes - Salvador de Bahía (Brasil)
Cursos de formación para profesores de E/LE
C.A.P (Curso de Adaptación Pedagógica)
Facultad de Ciencias Sociais e da Comunicación de Pontevedra - Pontevedra (España)
Curso de capacitación para profesores
Curso Formación de Profesores de Español como Lengua Extranjera
International House - Barcelona (España)
Cursos de formación para profesores de E/LE
Curso Didáctica del Español como Lengua Extranjera
Universidad Antonio Nebrija - Madrid (España)
Cursos de formación para profesores de E/LE
Licenciatura en Filología Portuguesa
Universidad de Santiago de Compostela - Santiago de Compostela (España)
Formación filológica de carácter general, conocimiento específico de los aspectos lingüísticos, literarios y culturales inherentes a la lengua portuguesa

Expérience professionnelle
Lectora de español
Universidad Estadual de Paraíba (Brasil) - Campina Grande Brasil)
Profesora de español. Responsable del examen DELE
Profesora de español
Escuela Oficial de Idiomas de Vigo - Vigo (España)
Profesora de español en los cursos de verano
Profesora de español
Escuela Oficial de Idiomas de Vigo - Vigo (España)
Profesora de español en los cursos de verano
Profesora de español
Instituto Cervantes de Salvador de Bahía (Brasil) - Salvador de Bahía (Brasil)
Profesora de español
Centro de la cultura española (Brasil) - Salvador de Bahía (Brasil)
Afficher plus de professeurs enseignant:
Cours d'essai
Une seule fois, 30 minutes
Cours particuliers
60 minutes