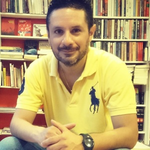 Alonso Torres
ギリシャ
•
2:29 PM (GMT+03:00)
自己紹介
My name is Alonso Torres, i´m peruvian and I'm living in Greece the last 12 years.
Im graduated in UNIVERSIDAD CATOLICA DEL PERU- Diplomatura en Enseñanza del idioma Español a hablantes de otras lenguas and im graduated too from UNIVERSIDAD DE LIMA in Business Administration.
Living in Greece, I gained a lot of experience giving private Spanish lesson in person and On-Line for foreigners and for the preparation for the Exam of INSTITUTO CERVANTES in levels A1,A2 B1,B2, C1 and C2, and in the EUROGNOSI INSTITUTE-GREECE.
I speak english and i have a DIPLOM in English Language from CENTRO DE IDIOMAS DE LA UNIVERSIDAD CATOLICA (LIMA-PERU)
I speak greek language too.

I Enjoy very much teaching spanish and the fantastic culture of this language and I want to share it with you,
I offer to you, a very friendly, funny and active method for you can learn Spanish since the first day.
In the end of each lesson, you will feel that you are learning with a friend, and you will enjoy your progress.
Contact me and let me teach you this wonderful language according to your necessities.
With me, you will be able to communicate with millions of people all over the world, you will develop your career because the Spanish language will give you many possibilities to discover new cultures and will you offer many opportunities.

Hola,mi nombre es Alonso Torres y soy peruano, vivo en Grecia desde hace 12 años donde soy profesor con mucha experiencia en la enseñanza del idioma español a extranjeros en todos los niveles y en la preparaciòn para los Diplomas del INSTITUTO CERVANTES, trabajo también en el instituto de idiomas EUROGNOSI y doy clases privadas y clases On-line.
Soy graduado en la Universidad de Lima en Bussines Administration y en Universidad Católica del Perú
Hablo inglés y tengo un Diplomado en la Enseñanza del idioma español a hablantes de otras lenguas.
Hablo también muy bien Griego.

Amo mi idioma y la rica cultura de la lengua española y quiero compartirlos contigo, te ofrezco un método amigable, dinámico y eficáz para que puedas aprender español desde el primer dia.
Al final de cada clase sentirás que estás aprendiendo con un amigo y te sorprenderás de tu progreso.
Contáctate conmigo para ayudarte a disfrutar de ésta experiencia con éste maravilloso idioma que te ayudará, de acuerdo a tus necesidades, a comunicarte con millones de personas en el mundo y desarrollar tu carrera, porque tendrás muchas posibilidades de descubrir nuevas culturas y nuevas oportunidades.

もっと見る
トライアルレッスン
One time, 30 minutes
先生の統計
1 日以内
7年前
100.00%
2,165
30.6 レッスン平均
5.0
レジュメ

学歴
Diplomatura en Enseñanza del idioma Español a hablantes de otras lenguas.
検証済み
Universidad Católica del Perú. - Lima- Perú
Diplomatura de Especialización en enseñanza del isioma de español a hablantes de otras lenguas
Graduated in Bussines Administration
検証済み
Universidad de Lima - Lima- Perú

職歴
Spanish Teacher
EUROGNOSI LANGUAGE INSTITUTE - GREECE - AEGINA
Planning and Developing lessons. -Improvement of pronunciation emphasizing conversation. -Preparation of materials and exercises -Preoaration for exams of INSTITUTO CERVANTES.
Profesor de Español de clases On Line
Grecia
Español para extranjeros Nivel Básico, Intermedios y avanzado
Profesor de Español (ELE )
Aegina-Greece
Español para extranjeros Nivel Básico,Intermedio y Avanzado
この言語を指導している先生を探す:
トライアルレッスン
One time, 30 minutes