Nicolò は、新しい生徒を受け入れていません。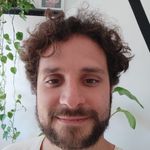 Nicolò Dimasi
イタリア
•
4:34 AM (GMT+02:00)
使用できる言語
ネイティブ
,
C1
,
C1
,
A2
,
A1
自己紹介
Do you need to study Italian for work, study or family purposes? Do you have an interest for Italian language and culture or do you just want to add a new language on your CV? This is the right place for you!

My name is Nicolò, I'm from Venice. I'm a professional teacher of Italian: I teach my language since 2016 both in Italy and abroad, to groups or individuals. I obtained CEDILS, one of the official certificates for Italian language teaching, in 2018.

My teaching method? I will help you to speak Italian since the first class! We will work together on real contexts of communication in Italian, we will observe and analyse the language (grammar and vocabulary of course, but also the use of the language depending on the context, i.e. formal and informal), we will practice together with exercises and enjoyable activities. All the contents we will do will have as main objective your skills to "create" Italian communication. For this reason, I will also integrate language teaching with information about non-verbal communication, cultural references, idioms, etcetera.

I have experience in teaching to adults of all levels of proficiency! Look at the feedbacks my students left above and feel free to contact me to tell me what are your objectives and needs: we will have a first FREE class and I will plan a programme designed especifically on you!
I'm looking forward to meet you and to have a chat....in Italian!

See you! A presto!

https://www.linkedin.com/in/nicol%C3%B2-dimasi-354911146/?locale=en_US
もっと見る
トライアルレッスン
One time, 30 minutes
先生の統計
数日以内
7年前
100.00%
617
17.2 レッスン平均
5.0
レジュメ

学歴
Phd in Linguistics, Literature and Culture
Universidad Autónoma - Madrid
Master's Degree in Language Teaching
Ca' Foscari University - Venice, Italy
Bachelor's Degree in Foreign Languages and Cultures
Ca' Foscari University - Venice, Italy

職歴
Italian tutor
Princeton University - Princeton, N.J.
Teacher of Italian language and culture
Istituto Venezia - Venezia, Italy
Teacher of English language
ARCI Formazione Permanente - Treviso, Italy
Teacher of Italian language and culture
Centro Lingua Italiana - Madrid, Spain
この言語を指導している先生を探す:
トライアルレッスン
One time, 30 minutes