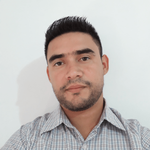 Hebert
아르헨티나
•
9:28 PM (GMT-04:00)
원어민 쌤 프로필
Hello! My name is Hebert Oliveros. I am a teacher of Education and I have a Master in Educational Management and a certificate of Lecto! I write in Spanish, my wish is that you be a winner, that you get that dream you want is to learn the Spanish language. My method is based on your needs, using programmatic content that will help you in your academic and linguistic training, I love using content where you can give your opinion, clarify doubts, questions, etc. I like to correct the pronunciations when forming a conversation. I like to correct the spelling. I like to create a very cheerful, very dynamic and very effective class environment. Remember that A WINNER IS A DREAMER WHO WILL NEVER GIVE UP, you are a winner and I will help you to never give up. I'll be waiting! Greetings.

Hola! Mi nombre es Hebert Oliveros soy profesor de Educación y poseo una Maestría en Gerencia Educativa y un certificado de Lecto ! Escritura del Español, mi deseo es que seas un ganador(a), que logres alcanzar ese Sueño que tu deseas que es aprender el Idioma Español. Mi método se basa en tus necesidades, utilizando contenidos programáticos que te ayudaran a tu formación académica y lingüística, me encanta utilizar contenidos donde tu puedas opinar, aclarar dudas, preguntas,etc. Me gusta corregir pronunciaciones a la hora de formar una conversación. Me gusta corregir la ortografía. Me gusta crear un ambiente de clase muy alegre, muy dinámico y muy eficaz, Recuerda que UN GANADOR(a) ES UN SOÑADOR(a) QUE NUNCA SE RINDE, tu eres un ganador(a) y yo te ayudare a que nunca te rindas. te estaré Esperando! Saludos.
더 보기
시범 레슨
One time, 30 minutes
선생님 통계
24시간 이내
6년 전
100.00%
5.714
23.5 평균 레슨
5.0
원어민 선생님의 전문 분야
Caribbean Spanish
Castilian Spanish
Central American Spanish
Latin American Spanish
교육 경력

학위
magister scientiarum en gerencia educativa
Universidad Rafael Urdaneta - Venezuela. Maracibo-estado zulia.
Licenciado En Educacion Catellano y Literatura Español
Universidad Rafael Urdaneta - Venezuela. Maracibo-estado zulia.

자격증
Lecto ! Escritura del Español
Universidad del Zulia - Venezuela. Maracibo-Estado Zulia.
Lecto ! escritura del Español
카테고리별 원어민 쌤 | 더 찾아보기:
시범 레슨
One time, 30 minutes