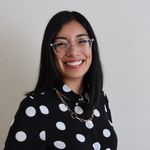 Delia Jiménez Ahumada
멕시코
•
10:30 PM (GMT-05:00)
시범 레슨
One time, 30 minutes
선생님 통계
몇 시간 이내
3년 전
100.00%
2 768
35.4 평균 레슨
5.0
교육 경력

학위
Procesos y estrategias de aprendizaje de ELE/ ELE (Spanish as a Foreign Language) learning processes and strategies
Universidad Antonio de Nebrija - Madrid, España
Estudio de las estrategias de enseñanza en función del grupo y los objetivos del mismo. Estudio de los factores cognitivos, afectivos y contextuales implicados en el aprendizaje de lenguas extranjeras como, por ejemplo, la memoria operativa, la motivación o la ansiedad.Study of teaching strategies depending on the group and its objectives. Study of the cognitive, affective and contextual factors involved in foreign language learning, such as, for example, working memory, motivation or anxiety.
B.A Education
BUAP - Puebla, México
Focus on theories of education, curriculum design, applying psychology of learning and motivation to the design of learning environments, social education.
Education
Bishop's University - Sherbooke, Quebec, Canada
Focus in the use of technology in teaching and learning, applying psychology of learning and motivation to the design of learning environments, leadership and social justice education.

경력
Assistance in programs of the Ministry of Education
SEP - Puebla, México
Help and collaboration in the design of educational projects
Facilitator
The Tree School - Puebla, México
Design and teach courses for kids between 4 and 10 years based on the Sustainable Development Goals from the UN.
Spanish peer-tutoring
Bishop's University - Sherbrooke, Canadá
Workshop facilitator
BUAP - Puebla, México
Memory and learning workshop

자격증
Curso de actualización- Gramática: morfología y sintaxis
UNAM - Ciudad de México, México
Estudio de la estructura de las oraciones, estructura de las palabras y su relación con el significado de la oración. Study of sentence structure and its relationship with meaning; study of word structure and its relationship both to sentence structure and to meaning.
Curso para preparadores del SIELE
Instituto Cervantes, UNAM, Universidad de Salamanca y Universidad de Buenos Aires
Preparation to become a SIELE trainer
Para aprender un nuevo idioma de forma más rápida es necesario dedicarle tiempo de auto-estudio diario...
Cuando viajes será muy importante que puedas comunicarte para obtener el alojamiento que deseas 🚪 ¡Aquí...
카테고리별 원어민 쌤 | 더 찾아보기:
시범 레슨
One time, 30 minutes