역대 최대 할인! 레슨 패키지 15% 할인 혜택.
만료일:

01:11:38:54

(쿠폰이 남았습니다.: 22)
Kaleigh님은 현재 새로운 학생을 받고 있지 않습니다.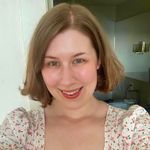 Kaleigh
캐나다
•
4:16 AM (GMT-08:00)
원어민 쌤 프로필
Hi! My name is Kaleigh, and I'm a professional English teacher from Canada who is passionate about art, literature, travel, politics and culture. I have a TEFL certificate, as well as a Bachelor's degree in English and a Master's degree in English. Because I'm an academic, I can offer my expertise in speaking and writing at the university level if that's what you need. My main goal is to help you learn English through engaging and natural conversation. One of the biggest complaints I hear from English learners is that they do not know how to hold a REAL conversation in English. Textbooks will teach you how to talk about the weather, business, or perhaps food, but rarely do they prepare you for fun, relatable conversation with real people. I can help you have more natural, fun and engaging conversations with English speakers. I will: give you tips on how to use slang and figures of speech, explain manners and etiquette, and teach you about English culture. I have lived in both Canada and the United Kingdom, so if you are thinking about moving or traveling to one of these countries, I can give you helpful advice on how to make friends and impress others in these societies.
If you have any further questions or would like to request a specific lesson topic from me, please let me know. I am very flexible and want to help you with whatever it is that you need to reach your goals!
Love, Kaleigh. :)
더 보기
선생님 통계
24시간 이내
4년 전
99.00%
702
14.4 평균 레슨
5.0
교육 경력

학위
M.A. in English
Bangor University - Bangor, United Kingdom
Focus in English Literature
B.A. in English
St. Francis Xavier University - Antigonish, Canada

경력
ESL Teacher
Whales English - Beijing, China
I also worked part time as an ESL teacher for children in China. I conducted my lessons entirely online and used presentations, videos, and engaging activities to ensure my students had as much fun as possible!
Private ESL Tutor
Personal Business - Halifax, Canada
I have been working as a private, one on one ESL tutor since 2016. I have taught children and adults and all levels from absolute beginners to advanced speakers.
ESL Teacher
Apex Language and Career College - Halifax, Canada
Lead a classroom in learning English as a second language

자격증
TEFL Certificate
TEFL UK - United Kingdom
120 hour professional TEFL course
카테고리별 원어민 쌤 | 더 찾아보기: