역대 최대 할인! 레슨 패키지 15% 할인 혜택.
만료일:

00:21:49:45

(쿠폰이 남았습니다.: 11)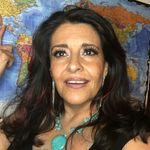 Laura Hernández
멕시코
•
7:05 PM (GMT-07:00)
원어민 쌤 프로필
Let me tell you about me...My degree is in Translation and Interpreting and I am studying for my Master's Degree in Linguistics. I also have several Certifications in Methodology and Translanguaging. I have created useful material for Dual Teaching that will be for sale soon on different platforms. I have more than 25 years of teaching experience. I ran my own Spanish-English language school in Isla Mujeres, Quintana Roo for 10 years.

Back in Mexico City, I have worked at different schools at all levels and in private tutoring face-to-face and online. I have worked in CEPE (Centro de Español para Extranjeros), UNAM. And also for TEC de Monterrey where I was the Coordinator of the Language Center and I have been Teacher's Supervisor, monitoring classes and teachers.

I have more than 5 years of experience in Customer Service as well as in different Call Centers. Most recently, I'm working on my Youtube Channel and I post daily Educational Articles or videos on Tik ToK, Instragam, FB, and Twitter.


더 보기
나의 체험 레슨
En la clase de prueba, te voy a compartir un documento que vamos a llenar juntos. Vamos a hablar de tus motivos para aprender español y te voy explicar la forma en la que enseño y el material que uso. Espero verte pronto.

In the Trial Lesson, I will share a document that we will fill in together. We will talk about your motives for learning Spanish, and I will explain my Methodology and the material I will provide. Hope to see you soon!
더 보기
시범 레슨
One time, 30 minutes
선생님 통계
몇 시간 이내
9년 전
88.00%
4.356
13.7 평균 레슨
4.9
교육 경력

학위
DIPELE
Diploma para la Enseñanza de Español a Extranjeros
Degree in Translation and Interpreting

경력
Private Spanish Lessons
Private Tutoring to Pastor Norman Patterson Jr. I taught Spanish from the beginning and he has progressed to intermediate level under my tutelage
ENP 4 UNAM
Public High School. UNAM is considered one of the most important universities in Mexico
Tlaloc SEP
Public Junior High School
Angloamericano
English - Spanish Private Institute for adults
Private English Lessons
Private Tutoring to CEO Hector Gallo from "Editorial Fernandez"
Belfort School
Elementary Private School
Founder of "Ixchel Institute"
I taught Spanish all levels to tourists of all ages
Restaurante "Rolandis"
I taught English to all the waiters analyzing the menu and how to explain it to customers
Garrafón
Aquatic Resort where I taught English to the workers teaching specific phrases depending on their position, For example; waiters, bartenders, zip line.

자격증
카테고리별 원어민 쌤 | 더 찾아보기:
시범 레슨
One time, 30 minutes