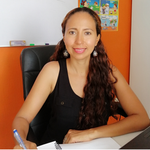 Lizbeth Aguilar
멕시코
•
8:43 AM (GMT-06:00)
원어민 쌤 프로필
He enseñado español desde el 2004 en escuelas privadas y de forma independiente a estudiantes en su mayoría de Estados Unidos y Canadá, pero también de otros países como Suiza, Alemania, Suecia, Inglaterra entre otros. Profesionalmente estoy interesada en crear programas que se conviertan en herramientas que ayuden, faciliten e impulsen el desarrollo de las habilidades del estudiante y su adquisición del nuevo idioma.

Mi experiencia como profesora ha sido una tarea reconfortante porque me da la oportunidad de ayudar a los estudiantes a lograr metas en su vida mediante el aprendizaje de un nuevo idioma.
La clase de español es también una oportunidad para compartir con los estudiantes extranjeros acerca de la cultura mexicana.

La enseñanza del idioma español me ha hecho aprender acerca de diferentes culturas e ideologías y esto me ha ayudado a tener una perspectiva más abierta sobre la vida, a ser más tolerante, respetuosa y darme cuenta que siempre tengo algo nuevo que aprender de los demás.

Mis fortalezas como maestra son ser paciente, creativa, proactiva, responsable, organizada y tener más empatía con las personas.


I have been teaching spanish since 2004 in private schools and like freelancer, mostly to students from United States and Canada, but also to other countries like Switzerland, Germany, Sweden, England and others. Profesionally I am interested in creating programs that become in tools that help, facilitate and encourage the development of student skills and their acquisition of a new language.

My experience as a teacher has been a rewarding task because it gives me the opportunity to help people to achieve their life's goals through learn a new language. The spanish lesson is also an opportunity to share with foreign people about mexican culture.

The teaching of the Spanish language has made me learn about different cultures, ideologies and also this has helped me to have a more open life´s perspective, to be more tolerant, respectful and realize that I always have something new to learn from the others.

My strengths like a teacher are being pacient, creative, proactive, responsible, organized and having more empathy with others.



더 보기
시범 레슨
One time, 30 minutes
선생님 통계
몇 시간 이내
7년 전
98.00%
3.642
26.4 평균 레슨
4.9
교육 경력

학위
College Degree in literature and Spanish teaching
International University - Cuernavaca, México
Focus in teaching spanish like a foreign language

경력
Spanish teacher
Guadalajara University - Jalisco
Group and individual classes of grammar and conversation to non-speakers of spanish. Levels: basic, intermediate and advanced. Program aimed to adults. Classes are communicative and practical approach.

자격증
DELE training
Guadalajara University - Guadalajara, México
Certified trainer for DELE exams A1,A2,B1,B2,C1,C2
카테고리별 원어민 쌤 | 더 찾아보기:
시범 레슨
One time, 30 minutes