역대 최대 할인! 레슨 패키지 15% 할인 혜택.
만료일:

03:21:57:29

(쿠폰이 남았습니다.: 44)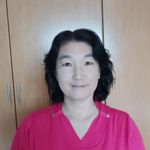 Nami
일본
•
3:57 AM (GMT+02:00)
원어민 쌤 프로필
【Specialized for beginners / 17 years experience / 5000+ online lessons】
Hello! My name is Nami. I was born and raised in Japan. I'm from Osaka. After graduating from university, I worked on travel-related work. I live in Spain now.

I started to teach Japanese 17 years ago.
I worked as a Japanese teacher at a language school.
I've taught Japanese in group and private lessons.
I've taught more than 5000 lessons online.

【Beginner course】
We will start with Japanese characters Hiragana and Katakana. Knowing Japanese characters will help you pronounce each word correctly and understand the grammar easily.
We will use textbooks and workbooks, which are well structured and based on conversational Japanese. I will provide you PDF files of the textbook and other documents. The textbook has a lot of exercises so you can practice grammar in different situations.
We will also have a conversation using the grammar we learned in the previous lessons. My lessons cover all Reading, Writing, Listening, and Speaking.
If you already know some Japanese, let me know your level and learning experience, then we can decide where to start.

【Conversation practice】
Let's practice natural Japanese speaking and pronunciation.
This lesson is suitable for :
- Learners who want corrections on your grammar mistakes and unnatural expressions.
- Learners who want to focus on a casual or polite way of speaking.
- Learners who want to improve their speaking and listening skills by practicing conversation with a native Japanese speaker.

If you have any questions please feel free to contact me.
I am looking forward to seeing you!
더 보기
나의 체험 레슨
I will use presentation slides to explain how we learn Japanese.
Self-introduction in Japanese. (If you are an absolute beginner, don't worry! I will show you step-by-step.)
I will suggest a customized lesson plan for you. Let's make your desired lesson plan together!
더 보기
시범 레슨
One time, 30 minutes
선생님 통계
매우 빠름
2년 전
100.00%
330
16.5 평균 레슨
5.0
교육 경력

학위
Bachelor
OC university - Japan

경력
Japanese teacher
확인됨
Academia M - Spain
Group and private lesson for children and adults.
카테고리별 원어민 쌤 | 더 찾아보기:
시범 레슨
One time, 30 minutes