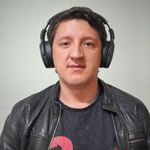 Santiago Gallego Villa
콜롬비아
•
8:03 PM (GMT-05:00)
Active Promotion (

10%

off)
CUPONCLASESCONSANTIAGO
쿠폰 적용
Con este cupón podrás tener un descuento del diez por ciento.
Puedes redimirlo una vez por las lecciones que quieras comprar.
Ha sido diseñado para motivar a los estudiantes de Español a que sigan con su proceso de aprendizaje. También para las personas que quieren comenzar a estudiar conmigo este idioma.
원어민 쌤 프로필
¡Hola, queridos estudiantes! Bienvenidos a mi página en Verbling. I am from Medellín Colombia and I have studied a degree in foreign language teaching at the University of Antioquia. So far, I have taught Spanish, English and French for 7 years. I really love languages and teaching and I am so happy because you want to learn to speak Spanish. During my classes, I like to use the "communicative approach" to improve speaking skills, but also I teach grammar in a way that you can enjoy it. I know that we all have different ways of learning, so I like to adapt the classes to the needs and level of every student. Additionally, we can practice some of the idiomatic expressions and work with creative material that can be applied to your context. So, we can create the best class with an excellent environment to use Spanish all the time.
If you want, you can book a trial lesson now; I'll be glad to have you in my class. See you soon!!
Thank you for your support.
By the way, you can read some of the articles I have written for Verbling on the following links:
https://es.verbling.com/articles/post/the-use-of-definite-articles-in-spanish
https://es.verbling.com/articles/post/the-reflexive-verbs-in-spanish

¡Chao y espero verlos pronto!

더 보기
나의 체험 레슨
In our trial lesson, we will have the opportunity to get to know each other to see which path we should take in the classes concerning different aspects and thus achieve the best results. We will talk a little about your previous experiences with Spanish and your goals to learn or improve the language. I prepared some simple questions in Spanish to identify your skills. Also, we will learn more about the methodology, materials, platform and availability. Muchas gracias, and see you soon.
더 보기
시범 레슨
One time, 30 minutes
선생님 통계
1시간 이내
6년 전
100.00%
5.754
50.5 평균 레슨
5.0
교육 경력

학위
English teacher
Universidad de Antioquia - Medellín- Colombia
Degree in foreign language teaching
Universidad de Antioquia - Medellín, colombia
Spanish- English - French
When and How do we use the reflexive verbs? The Reflexive verbs are used when the action is performed...
Why do we say "el" instead of "la" for things without gender? The right use of definite articles in...
카테고리별 원어민 쌤 | 더 찾아보기:
시범 레슨
One time, 30 minutes