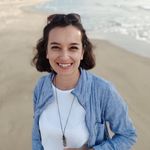 Basak
Turquia
•
4:18 PM (GMT+03:00)
Sobre mim
Merhaba!

I have been teaching Turkish for 18 years. I started to teach when I was studying Turkish Language and Literature. I worked in a language school and at universities, and I suppose that I gained success. 😊 My achievements are directly proportional to my student's success. I feel rewarded when I witness their progress in applying their Turkish language skills to their daily lives.

Over the years, I have met hundreds of people from all over the world, taught Turkish, and told them about Istanbul and Turkey. Those people told me about their countries and learned to express themselves in Turkish. For example, I ask them: "Do you like Istanbul?" in Turkish it is "İstanbul'u seviyor musun?" or " There are many cats in Istanbul!", "İstanbul' da çok kedi var!" A basic but correct conversation is really important for self-confidence in any language. If a learner can master basic sentence forms, the rest will come much easier. On the other hand, making mistakes is also very important. Especially, a learner can not speak without making a mistake the first and second time.

My students are always varied and have diverse learning skills. My professionalism also allows me to tailor language education according to individual interests, needs, and capacities. In the classroom, I hold firm three main principles: first, providing a comfortable environment, second, creating an encouraging atmosphere, and third, establishing a collaborative instruction model. I consider that I developed an aptitude for making learning Turkish to become much easier, enjoyable and practical for my students.

I use a book prepared by a university in Turkey. I share the pdf version of the book for my lessons. I also adapt the materials according to the learner's needs and support the book with my authentic materials. Even though I use a communicative approach, all my lessons are guided by a solid knowledge of grammar.

For the online lessons, I send an e-mail after every lesson. That word file includes a vocabulary list, sentences (corrected and uncorrected versions, you can compare both of them easily), grammar points and homework for revision. In this way, you can find everything in a file well organized. When we have a face-to-face lesson, I give a hard copy of this list after every lesson.

How learning a new language opens a new window into a person, teaching Turkish is also the same for me! I was always interested in languages - I could speak a bit of Italian and learned Persian grammar except English.

I always think about Istanbul -I was born and grew up here- it is a good place for self-improvement. First and foremost, Istanbul hosts international people coming from around the world. It is considering to me, I am lucky because I have one of the most pleasant professions.

When teaching Turkish, promoting cross-cultural awareness forms an important part of my lessons. Teaching the language involves both the students and myself in a dynamic conversation about our cultural backgrounds.

Teaching Turkish is in fact not only teaching a language but also teaching a culture. I am interested in cinema, music and like visiting museums. I always share the activities with my students.

I also teach Turkish to young learners. I started to study Child Development at Istanbul University as a second university in 2018. We say in Turkish, "Studies have no age!"

If you want to speak Turkish well, please contact me. It is fun, and we will smile during the lesson!

Extra information:
The main book is clearly structured with a strategic approach to learning Turkish by using all the language skills – Reading, Writing, Listening and Speaking from A1 to C2 level. Additionally, the workbook includes a lot of exercises for doing homework or revision. Doing homework is important for your development but I am not really strict about that. :) Please feel free to communicate with me at any time.


P.S. I would appreciate it if you could contact me before booking a lesson. My calendar on another platform is not synchronized with Verbling. Thank you for your understanding!
Ler mais
Minhas aulas experimentais
I try to understand your level with some basic questions. I would like to listen to your needs too.

P.S. I would appreciate it if you could contact me before booking a lesson. My calendar on another platform is not synchronized with Verbling. Thank you for your understanding!
Ler mais
Aula experimental
Individual, 30 minutos
Estatísticas do professor
Dentro de algumas horas
3 anos atrás
99.00%
206
29.4 aulas em média
5.0
Experiência de ensino
Iniciante
Iniciante superior
Intermediário
Intermediário superior
Avançado
Avançado superior
Currículo

Educação
Bachelor - Child Development
Istanbul University - Istanbul, Turkey
Istnabul University as a Second University (Distant Education)
Master - History
Bilgi University - Istanbul, Turkey
Ottoman History - Full Scholarship
Master - Turkish Studies
Leiden University - Leiden, the Netherlands
Bachelor's - Turkish Language and Literature
Yeditepe University - Istanbul, Turkey
Turkish Language and Literature - Full Scholarship

Experiência profissional
Freelancer Instructor of Turkish for Foreigners
My Own Company - Istanbul, Turkey
Turkish Lessons for Adults and Kids (In-Person and Online Lessons)
Instructor of Turkish for Foreigners
Concept Languages - Istanbul, Turkey
Turkish Lessons for Adults and Kids (Group and In-Person Lessons)
Lecturer of Turkish for International Students
İstanbul Şehir University - Istanbul, Turkey
Lectured Advanced Turkish Group Lessons (Part-time)
Instructor of Turkish for Teachers
TÖMER (Turkish Language Research Center) - Istanbul, Turkey
Lectured Beginner Turkish Group Lessons (Part-time)
Instructor of Turkish for Erasmus Students
Maltepe University - Istanbul, Turkey
Lectured Turkish Group Lessons to Erasmus Students
Lecturer of Turkish Language for Native Speakers
Maltepe University - Istanbul, Turkey
Lectured Native Turkish Group Lessons

Certificações
Teaching English to Speakers of Other Languages (TESOL)
Vancouver International College Career Campus - Istanbul, Turkey
Program of Teaching English to Speakers of Other Languages (TESOL - 120 hours)
Teacher of Turkish Language as a Foreign Language
Turkish Language Research and Application Center (TÖMER) - Istanbul, Turkey
Program to Train Teachers of Turkish as a Foreign Language
Confira mais professores de:
Aula experimental
Individual, 30 minutos