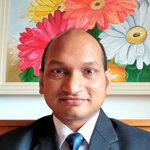 Fluent Hindi and Sanskrit with Professor Ashish
Índia
•
2:13 AM (GMT-03:00)
Fala
Nativo
,
Nativo
,
Nativo
,
C2
,
C1
,
C1
,
B1
,
A1
,
A1
,
A1
,
A1
,
A1
Estatísticas do professor
Dentro de uma hora
5 anos atrás
100.00%
98
9.9 aulas em média
5.0
Experiência de ensino
Iniciante
Iniciante superior
Intermediário
Intermediário superior
Avançado
Avançado superior
Currículo

Educação
Bachelors of Arts (Hindi & Tourism Studies)
Indira Gandhi National Open University - New Delhi, India
Hindi Literature, Theoretical and applied Grammar, English and Tourism Studies. Develop your skills in teaching speaking, listening, writing and reading. Find out the latest up to date teaching materials and activities for preparing students for the examination. Learn how to effectively prepare students for the exam using a variety of different strategies. Have the opportunity to share your knowledge and skills with other professionals in your field. Be provided with professionally developed materials which cater to your needs.
Three Year Diploma in Hotel Management, Catering & Applied Nutrition
Society Of Advanced Management Studies - Government Of India - Varanasi, Uttar Pradesh, India
Accommodation Operations, Food & Beverage Management, Kitchen operations. Skilled in preparing curriculum and syllabus for teaching Hindi through grammar and literature along with examples and demonstration. Excellent time-management, interpersonal, and problem-solving skills. Ability to prepare, administer, and grade tests in Hindi language. Using technology in teaching and ensuring students have understood the subject. Assigning lessons and homework to students and correcting their papers.

Experiência profissional
Hindi Trainer cum Housekeeping Manager
WOPG.ORG (Raj Vidya Kender, New Delhi, India) - New Delhi India
Guiding and helping students in Hindi language arts, including writing, reading comprehension, speaking, listening and understanding Developing Hindi lesson plans in line with the curriculum
Hindi Teacher
SMART WAY (Centro Idiomas Smart Way) - Pelotas, RS, Brazil
Planned Hindi lessons to meet curriculum standards • Tracking progress through assessment and reporting within own teaching groups. Monitored the progression of students in teaching groups • Delivered engaging, coherent lectures and motivating lessons to students across all Key Stages. Utilized learning technology in the planning and delivery of lessons
Online Hindi & English Teacher(Skype & Google Hangouts)
Work from Home - Pelotas, RS, Brazil
• Modified assignments and activities to meet the learning needs of individual students – Identified and sorted into small, similarly skilled groups • Classroom management: Prepared Hindi classroom and coursework materials, homework assignments, and handouts. Prepared course work, planned class sessions: Selected/integrated appropriate instructional materials for classroom instruction – Organized/delivered classroom lectures to students. Arranged extra-curricular activities and set targets for pupils • Evaluated the students' class work and assignments: Graded tests, essays, reports and other assignments – Regularly provided students with feedback in line with the faculty assessment system • Helping students with vocabulary, pronunciation, grammar & neutral accent required for job interviews, Business, travel and staying abroad

Certificações
Government Licence of Hindi & English Teacher
Smart way Language Center - Pelotas, Rio Grande Do Sul, Brazil
AIESEC Certificate of Hindi Teacher
AIESEC Global (Brazil) - Pelotas, Rio Grande do Sul, Brazil
Certificate from Ministry of Education
Federal University of Pelotas - Pelotas, Rio Grande Do Sul, Brazil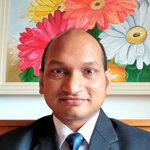 4 anos atrás
•
Comentários: 0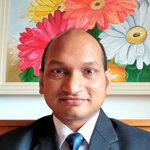 4 anos atrás
•
Comentários: 0
Confira mais professores de:
Fluent Hindi and Sanskrit