Небывалая распродажа! Скидка 15% на пакеты уроков.
Срок действия истекает через:

00:18:50:33

(Осталось купонов: 11)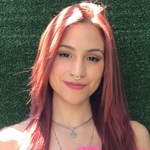 Daniela 🏅🏆
Аргентина
•
2:04 AM (GMT-03:00)
Язык(-и) общения
Родной
,
C2
,
B1
Обо мне
(For scheduling short term lessons -less than 12 hours before the lesson- please message me).

Hello there! I am Daniela, a 24-year-old​ Argentinian and Colombian teacher who has a passion for language and teaching. I have been teaching English and Spanish for 4 + years and have met with thousands of students from all over the world! My style of teaching is fun, didactic and practical, as well as filled with patience and motivation.

With a Certificate in Advanced English C2, I have experience in written and oral translations from English to Spanish and vice-versa and teaching these languages and creative writing in both.
I have participated in creative writing competitions and debates, this allows me to have an open mind and listen to all points of view, as well as being patient and understanding. I believe that learning has to be fun and enjoyable, that not only brings light into your life but a useful tool for your everyday.

Each lesson is custom made for your needs and specific level of knowledge, we can cover every topic you want and discuss everything you want to learn. You will learn things that are applicable in real life situations and daily speech so you increase your communication abilities. We can practice grammar, reading comprehension, writing, and speaking. Everything you need to achieve your language goals!
If you are looking for a teacher who has knowledge about economics, finance and/or communication I am qualified in those topics. As I have lived in Colombia and Argentina, I can speak both neutral and accented Spanish.

**THERE WILL NOT BE RESCHEDULING FOR MISSED CLASSES WITHOUT A 12HR PRIOR NOTICE**
Подробнее
Мои пробные уроки
The trial lessons are intended to assess your current language level, get to know each other, discuss learning methods and most importantly, set a plan for you to achieve your goals. The intent is to have a back and forth about what you want and how we can get you there. Don't be nervous, this is about the enjoyment of learning and expanding your knowledge!
Подробнее
Пробный урок
Один раз, 30 минут
Статистика учителя
В течение нескольких часов
5 лет назад
100.00%
2 332
19.2 уроков в среднем
5.0
Опыт и знания в обучении
Начальный
Выше начального
Средний
Выше среднего
Продвинутый
Суперпродвинутый
Central American Spanish
Latin American Spanish
Резюме

Образование
Licenciatura
Universidad Abierta Interamericana - Buenos Aires
Licenciatura en Administración
Secundario Bilingüe
Maria Montessori - Buenos Aires
Bachillerato en Ciencias de la Comunicación

Опыт работы
Associate I
PWC - Buenos Aires
Profesora de Español
Italki - Argentina
Profesora de la comunidad en Español

Сертификаты
The Science and Business of Biotechnology
MITx
Business of pharma industry
Programa de Estudios Avanzados- Liderazgo, Coaching y Desarrollo Personal
Universidad Abierta Interamericana - Argentina
CAE
Cambridge
Certificate of Advanced English
Просмотрите профили других учителей, выбрав нужный аспект:
Пробный урок
Один раз, 30 минут