Giada не берет новых учеников.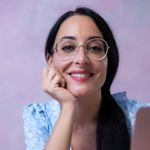 Giada Licastro
Испания
•
3:56 AM (GMT+02:00)
Язык(-и) общения
Родной
,
C1
,
B2
,
A1
Обо мне
Hello everybody!

My name is Giada, I'm a professional Italian teacher since 2011 and I've been holding online lessons since 2015.

Teaching Italian is not only my job, it's my biggest passion!
For this reason I obtained the best specialisations which attest to an advanced competence in didactics of Italian as a foreign language:
- Dilit International House Diploma
- Certification Ditals 2 awarded by the University for foreigners of Siena
- 2nd level postgraduate Master Itals awarded by Ca' Foscari University of Venice, for which I wrote a thesis about e-learning.

My professional experience comprehends children, adults and managers who study Italian for professional reasons.
My teaching method is based on a comunicative approach, that allows the students to use actively the language since beginners level. You're going to learn Italian with enthusiasm and motivation and every lesson you will improve and learn something new.
We will work on all the aspects of the language: speaking, with pronunciation, fluency and intonation, listening, reading, grammar, vocabulary and everything you need!
Moreover, If you are interested in Italian culture and art, I have a degree in History of Art and I will guide you through the wonders of Italy!

I always try to customise my lessons, according on the needs and personalties of the students: in every lesson you're finding something interesting and stimulating. We're working with authentic materials, such as newspaper articles, movies and books extracts and anything that may interest you!
I love using songs and games to go deeper in grammar or to learn new words, so if you like it too, we're going to have great time together. The most important thing to me is that you find in my lessons a moment of fun and relax, to learn with no stress and to improve very quickly.

If you want to learn Italian with a qualified teacher who loves her job, just go and book a first trial lesson with me!
Подробнее
Пробный урок
Один раз, 30 минут
Статистика учителя
В течение нескольких часов
6 лет назад
100.00%
1 082
24.7 уроков в среднем
5.0
Резюме

Образование
2nd level postgraduate Master in "Advanced planning of teaching Italian language and culture to foreign students"
University Ca' Foscari - Venice
Graduated with summa cum laude. Thesis: Italian classes by Skype. Technical improvements and online adaptation of two Dilit activities: Language Puzzles and Conversation Rebuilding. Graduated with summa cum laude
Master's Degree in Art History (Laurea specialistica)
Università di Bologna - Bologna

Опыт работы
Italian Teacher
Centro Culturale Italiano - Seville
Italian Teacher
British School - Padua
Group and individuals courses at Bata Italia Compar
Italian Teacher
Trinity School - Venice
Group and individuals courses at hotel Hilton Molino Stucky in Venice
Italian Teacher
Dilit International House - Rome
Group intensive and individuals courses for adults and young adults
Italian Teacher
German-speaking state primary schools in Sarnthein and Aberstückl - Bozen - Italy
Group and individuals courses at Bata Italia Compar

Сертификаты
Ditals 2 Certification
University for Foreigners of Siena - Siena
Ditals 2 Certification attests to an advanced competence in didactics of Italian for foreigners and trains teachers to operate in every teaching context and with every sort of students.
Diploma Di.L.It for teaching Italian as a foreign language
Di.L.It International House - Rome
Awarded with a special commendation by Di.L.It International House, Rome. DiLit (Divulgazione Lingua Italiana), established in 1974, is one of the first Italian schools in Italy and it is nowadays considered as one of the most prestigious in Italy and abroad. It is also well-known and appreciated for its Teacher Training Department accredited by the Italian Ministry of Education and for the publication of course books and other language teaching materials.
Просмотрите профили других учителей, выбрав нужный аспект:
Пробный урок
Один раз, 30 минут