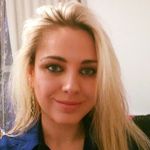 Ioanna Katochianou
Греция
•
10:34 PM (GMT+00:00)
Язык(-и) общения
Родной
,
C2
Обо мне
Kalispera!

My name is Ioanna and I'm a qualified Modern Greek teacher (Q.T.S),with more than 14 years experience in teaching Modern Greek Language and Classics(Greece and U.K.)

I am going to be by your side while you go through the mesmerising path of learning the Greek language.

Whether you are a quick learner or a slow one, wanting to learn the Greek language out of personal or professional interest, I am here to help you meet your goals.

I am extremely hard-working , persistent, passionate, committed, and professional ,setting very high expectations from my students, with a never give-up philosophy.

I adore my profession, desiring each and every of my students to be 100 % satisfied and happy with my lesson.

In regards to my qualifications,I hold a BΑ in History and Greek Language(School of Philosophy, University of Ioannina).

I have a one-year post-graduate specialisation in Special Education and Learning Difficulties /Dyslexia and an on-going MA in Special and Multicultural Education (including lessons for Multicultural education and Inclusion).

I have international teaching experience in Greece and in the UK. In the UK I have taught Greek as an additional language to adolescents at the Saint Barnabas Greek School in London and and the last 2 years I teach Greek as an additional language to adults at the Hellenic Centre in London(large groups and one to one, beginners/intermediate/advanced).

I have also worked as a supply teacher across many mainstream Secondary and High schools in London.

During the last 2 years I have worked as a Lead History and English as a Second Language Teacher and Form Tutor at a Pupil Referral Unit for excluded students with social, emotional and mental health needs (SEMH). My students have shown 20% performance improvement and 90% of them have received qualifications. I can work under pressure in order to achieve targets. I am able to work with students from different cultures and nationalities and I love diversity.

As far as my teaching experience in Greece is concerned, I have worked as a Greek Language Teacher for more than 3 years as at the local NGO "Paidia en taxei" in Athens.

I have also worked as a Teacher r of Modern Greek in private tuition centres covering Modern Greek and Classics and other subjects for more than 10 years as well, preparing intensively my students for their Panhellenic Examinations most of them achieving excellent results.

I love Greek Language and throughout my studies and working experience, I gained a strong knowledge of the Greek grammar and syntax.

The last four years I live in London, where I was given the chance to meet people from all over the world, to teach and learn from them.

I constantly seek progress ,meaning that I study further through reading books/articles concerning didactics/methodology and learning difficulties and by attending professional meetings, educational conferences and workshops.

I was always fascinated by the beauty and richness of the Greek language and culture and I have a passion for teaching. I find the idea of teaching Greek to non-native speakers very inspiring and fruitful for both the teacher and the student.

Ι firmly believe in the anthropocentric and globalised perspective of knowledge, which broadens our horizons and inspire us to constantly aim higher and thus become better. Greek and Verbal planet gave me the unique chance to share my passion for the Greek language and civilization with numerous people from abroad. My aspiration is to pursue a career in sharing my knowledge and also encourage non-native speakers to cultivate the Greek spirit world-wide. I am looking forward to meeting with you and join our journey!

Qualifications & Experience
Qualifications

01/2018 – Present MA in Special Education

Open University of Nicosia, Cyprus (ongoing online attendance)

09/2010 – 06/2011 Post-graduate specialization in Special Education

University of Athens, Faculty of Primary Education

Rehabilitation of dyslexia and other learning disabilities, including three-month volunteer practice with hear and visual impairment pupils, Thesis in Autism and Asperger's syndrome

2012

Proficiency Degree in English Language Michigan Degree),

09/2002 – 02/2008 BA in History and Greek Language

University of Ioannina, School of Philosophy

Experience

01/2019 – Present Lead Teacher in Humanities

Create School, T.C.E.S. Group, Custom House, London, UK

09/2019 – Present Teacher of Modern Greek

Hellenic Centre, London, UK

• Teaching Modern Greek as an additional language to adults (beginners, intermediate, advanced)

12/2016 – 07/2019 Teacher of Modern Greek

Saint Barnabas Greek School, London, UK

• Teaching Greek as an additional language (modern Greek, history, literature) to primary, G.C.S.E.'s and A level's students

09/2017 – 12/2018 Supply teacher,

Higher level teaching assistant (HLTA)

Tradewind Recruitment Company, London

09/2013 – 07/2017 Teacher of Modern Greek/Classics

Paidia en taxei, NGO for students with special needs, Aigaleo, Athens

09/2008 – 06/2017 Classics and Modern Greek Teacher

Private Tuition Centres: Themelio / Idea / Stohos / Kyklos, Diodos/Synchroni Paideia Athens, Greece

• Provided tuition to students aged 12-18 in Latin, Ancient Greek, Modern Greek, Literature, History

Teaching Approach
The method I use is based on the communicative approach of teaching a language.

"To communicate" is to be able to use the language as a tool for inter-personal communication in a particular social environment, which is defined by relevant situations, the topic, the roles of the interlocutors etc.

The lingual ability is therefore considered as a "skill" and not as "knowledge", and, in that sense, the student must be equipped with the appropriate strategies to learn and use the language. My aim is to help each student become autonomous and be able to deal with different lingual circumstances in everyday life. This is achieved without pushing aside the teaching of grammar, but in a balanced combination with real, authentic communicational conditions and the required strategies of understanding and producing speech. This is also the main target of the educational process.

The educational program I have designed in such a way, so as to develop all four language skills, reading comprehension, writing, listening and speaking. The resources that are used are supported by visual and listening material, through which everyday lingual phenomena are approached. At the same time, both written and oral language exercises give the ability to our students to practice and consolidate the taught material.

The main aim is the teaching of vocabulary and the grammatical and syntactical phenomena of the Greek language according to each level. What is also very important is the familiarization of the student with everyday communicative circumstances and the adequate use of language in a variety of contexts. Finally, another important thing is the contact with the Greek way of thinking and Greek culture in general.
Подробнее
Пробный урок
Один раз, 30 минут
Статистика учителя
В течение нескольких часов
3 года назад
94.00%
78
10.4 уроков в среднем
5.0
Опыт и знания в обучении
Начальный
Выше начального
Средний
Выше среднего
Продвинутый
Суперпродвинутый
Резюме

Образование
Master's Degree(on-going)
University of Nicosia - Cyprus
Master Degree in Special and Multicultural Education
One -year Post Graduate Specialization In Dyslexia and Special Needs
Kapodestrian University of Athens - Athens,Greece
Certification in the Rehabilitation of learning difficulties,Special needs and dyslexia

Сертификаты
Proficiency degree in English Language
Michigan - Usa
Proficiency in British language
Bachelor in Green Language and History
Philosophy Department - University of Ioannina,Greece
Focusing in Teaching of Greek History,Language and Literature
Просмотрите профили других учителей, выбрав нужный аспект:
Пробный урок
Один раз, 30 минут