Небывалая распродажа! Скидка 15% на пакеты уроков.
Срок действия истекает через:

00:11:39:24

(Осталось купонов: 11)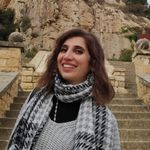 Shaza Masri
Испания
•
1:15 PM (GMT+01:00)
Язык(-и) общения
Родной
,
C2
,
B1
Обо мне
Hello everyone,

I am a native Arabic speaker from Syria with a PhD in Communication and Education and a degree in English Literature.
My method is pretty simple, which is making grammar as easy as possible by using different activities and repeating all information over and over through conversation during classes so you do not need to study a lot after our lessons.

From class one you will start speaking, writing and reading through easy systemic steps. I prepare my materials to fit every student's needs.

I have experience in teaching Modern Standard Arabic as well as the Syrian Arabic dialect. I have been working in many interesting countries with humanitarian and diplomatic organizations, therefore, I have experience in the formal work language.

Teaching for me is a process of fun and experience. Learning a language can be challenging, but if we work together, you will see great results. I have a lot of interesting stories to share, so, I can promise you interesting and exciting lessons and a lot of speaking.
Hope to see you soon.

One of my students' feedback:

Hi Shaza,

My program in Jordan started recently. I'm hoping to start intermittent lessons again, but I wanted to reach out and thank you for all of your help. Your lessons are the reason I'm able to get around in Jordan and communicate with my host family. Additionally, although I had taken less than a year of Arabic prior to starting the program, I was placed in the same level as the students who had taken two years! Again, thank you for all of your help and I hope to take more lessons in the future!

Best,
Annie


تحية طيبة للجميع

اسمي شذى ولدي خبرة 10سنوات في تدريس اللغة الإنجليزية واللغة العربية

(لغتي الام هي اللغة العربية والتي اجيدها بشكل ممتاز ( اللغة الرسمية واللغة العامية السورية
حاصلة على ماجستير في دراسات السلام والتعليم والتواصل باللغة الانكليزية، وحاليا اقوم بابحاث الدكتوراه حول نفس الموضوع.
لقد قمت بتدريس طلاب من مستويات دراسية مختلفة واستمتعت بالتواصل معهم وبإيجاد افصل طريقة للعمل على تحسين لغتهم.
بالإضافة إلى ذلك عملت في المنظمات الانسانية والدبلوماسية في العديد من انحاء العالم. ولذلك لدي خبرة كافية بلغة العمل.
أنا مدرسة صبورة. اعمل خلال الدرس على مراجعة وتكرار كل المعلومات الجديدة والقديمة وبذلك لا تحتاج لوقت طويل في الدراسة بعد انهاء الحصة الدراسية.
أتطلع إلى التعرف على طلاب جدد لتبادل المعرفة والخبرات.

أفضل التمنيات.
شذى

Подробнее
Пробный урок
Один раз, 30 минут
Статистика учителя
В течение дня
5 лет назад
99.00%
1 092
18.4 уроков в среднем
5.0
Опыт и знания в обучении
Начальный
Выше начального
Средний
Выше среднего
Продвинутый
Суперпродвинутый
Modern Standard Arabic (al-fusha)
Резюме

Образование
PhD candidate
UJI - Spain
Education and Communication
Master in Education and Communication
Jaume I Universit - Castellón de la Plana, Spain
Focus on Education, Peace and communication

Опыт работы
Teacher
Languages - Humanitarian Organization, Private Institutes, Syria, Spain
Translator
International Organizations - Syria,Tunisia, Spain, Qatar, Switzerland.

Сертификаты
Business English
Wimbledon School of English in London - United Kingdom
B.A English Literature
Damascus University - Syria
Просмотрите профили других учителей, выбрав нужный аспект:
Пробный урок
Один раз, 30 минут