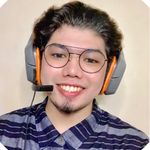 Ben - Learn Business and Conversational English
İspanya
•
9:20 PM (GMT+01:00)
Konuşur
Ana Dil
,
A2
,
A2
,
A1
,
A1
Hakkımda
Congratulations! Javier, Maria, Lisa, and Andrea for your promotion!
Congratulations! Serena for your new job in Rome!
Congratulations! Mariam for your new job in France!
Congratulations! Marcio for your new job in the UK!
Congratulations! Gabriel for your new job in Canada!
Congratulations! Batoul for your new job in Lebanon!
Congratulations! Fabricio for your new job in Portugal!
Keep up the good work!
For my current students, you're on your way! I'm so proud of you! :D

Hello! Thanks for heading into my profile. You can call me Ben. I am a Licensed Professional Teacher with a Bachelor's Degree in Education majoring in Biological Sciences. I'm taking up my Master's Degree in Biology and my TESOL at Arizona State University, USA. I have a good academic and scholastic background. I am very friendly and approachable. I like reading books, watching movies, and playing the guitar. I have been teaching for 7 years both Online and School-Based as a Senior High School Teacher. I have taught different nationalities from Asia, Latin America, the Middle East, and Europe. Quality education is assured here.

I am very friendly, polite, approachable, and organized. I always make sure that my lessons are guided and attainable. I always make sure that the student is comfortable together with me. A friendly and jolly environment makes a strong bond and good relationship as a Tutor, friend, and brother. I am very passionate about teaching and I enjoy it.

My lesson and teaching style depends on age and level. I believe that there is no perfect teaching style but there is an appropriate teaching style that could handle the needs of the individual differences of my students.

Devamını Oku
Deneme Dersi
Tek Seferlik, 30 dakika
Öğretmen İstatistikleri
Birkaç günde
4 yıl önce
100.00%
4.411
9.4 ders ortalaması
4.9
Öğretme Başarısı
Yeni Başlayan
Üst Başlangıç seviyesi
Orta düzey
Üst Orta seviye
İleri düzey
Üst İleri seviye
Özgeçmiş

Eğitim
B. A. in Education
St. Mary's College
Bachelor's degree for upcoming Educators/Teachers
Philosophy and Sciences
University of Edinburgh - Scotland

Sertifikalar
Teaching English to Speakers of Other Languages
Open academy - USA
course helps English language teachers at primary, secondary or higher education levels who have a language background other than English enhance their language skills while creating great outcomes to teach English to learners
Licensed Professional Teacher
State Issued License
Licensed Professional Teacher
Diğer öğretmenlere göz atın:
Deneme Dersi
Tek Seferlik, 30 dakika