Gelmiş geçmiş en büyük indirim! Ders paketleri %15 indirimli.
Kalan Süre:

01:11:29:07

(Kalan Kupon: 22)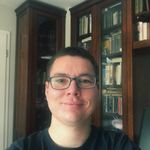 Kay
Almanya
•
1:25 PM (GMT+01:00)
Hakkımda
*** Unfortunately, I can't offer lessons to complete beginners at the moment ***

Hello,
thank you for viewing my profile. My name is Kay and I give German lessons online.

I have experience teaching German and English to German natives and to foreigners. I also have experience writing and editing texts for publication, and I have corrected many texts written by non-native German speakers on a different language learning website. I can speak English fluently, so I am able to explain finer points of German in that language as well.

I have worked with children deemed "difficult" by others, but I have learned that those labels do not matter and instead try to keep an open mind with every new student and try to help them in their unique situation. I am supportive and easy-going. I am flexible in the way I correct (few or many corrections) and the topics we talk about. I can and do explain grammar, but I'd prefer not to give a grammar lesson and monologue for one hour. I like when my students know what they want and what their goal is, because then I can help them in the best and most efficient way.

I am interested in a variety of topics: I like sports, culture, food, entertainment, reading, and much more. I like travelling and getting to know new countries, new people, and new cultures. I am currently learning Spanish in order to travel to Spain for an extended period of time.
Devamını Oku
Deneme Dersi
Tek Seferlik, 30 dakika
Öğretmen İstatistikleri
Birkaç saatte
5 years ago
100.00%
3.983
41.1 ders ortalaması
5.0
Öğretme Başarısı
Yeni Başlayan
Üst Başlangıç seviyesi
Orta düzey
Üst Orta seviye
İleri düzey
Üst İleri seviye
Özgeçmiş

Çalışma Deneyimi
Private Tutor
Niedersachsen, Germany
Private tutor in a tutoring school for German, English and Maths; lessons for individuals and groups
Diğer öğretmenlere göz atın:
Deneme Dersi
Tek Seferlik, 30 dakika