Roxana geçici olarak mevcut değil.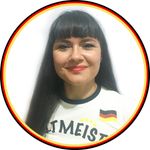 Roxana Mueller
Dominik Cumhuriyeti
•
5:31 PM (GMT-04:00)
Konuşur
Ana Dil
,
C2
,
C2
,
B2
,
A2
,
A2
Hakkımda
Hallo meine Lieben :)
My name is Roxana and I am from Germany.
I'm a qualified and experienced German (Business) teacher. I love to teach and I am passionate about learning other languages. I am happy to help you whether you're interested in learning German for fun, work or study purposes.
I design all lessons dependent on each student's demand, needs, and interest. Usually, my lessons are based on the course book, called "Menschen". Don't worry about any learning material, I will provide you with all information. My keyword is COMMUNICATION - I encourage my students to speak as much as possible and get confident in doing so.

Let me know what your goals are and we will find the best way to improve your skills!
Including, I can also help you to prepare for a language exam, with translations or proofread your homework.

I am looking forward to meeting you soon!
Have a great day!
Roxana
Devamını Oku
Deneme Dersi
Tek Seferlik, 30 dakika
Öğretmen İstatistikleri
Aynı gün
7 years ago
99.00%
1.952
8.7 ders ortalaması
4.9
Öğretme Başarısı
Yeni Başlayan
Üst Başlangıç seviyesi
Orta düzey
Üst Orta seviye
İleri düzey
Üst İleri seviye
Özgeçmiş

Eğitim
Bachelor of Arts
Avans Univeristy of Applied Siences - 's-Hertogenbosch, The Netherlands
International Business and Languages (Dutch, English, Spanish, French)
Semester abroad
Universidad APEC, Santo Domingo - Santo Domingo, Dominican Republic
Semester abroad
Universidad de Murcia, Murcia - Murcia, Spain

Çalışma Deneyimi
Event Management
Highlight Eventoffice - Hannover, Germany
Web Design
We-R-Asia - Uden, The Netherlands
Translation: Dutch-German, English-German
Fashion Design
Ghea Fashionstudio - Jakarta, Indonesia
Tour guide
RUF Jugendreisen - Playa de Aro, Callea, Spain
Translator and tour guide for teenagers (German-Spanish)
Language teacher English
TutorABC
English consultant for kids, teenagers and adults - beginners to advanced students
Language teacher German
Private teaching lessons for kids, teenagers and adults - beginners to advanced students

Sertifikalar
TESL Certificate
Teaching English as a Second Language
Abitur - A-Level
Gymnasium Stolzenau, Germany - Stolzenau, Germany
Higher education entrance qualification
"Ich verstehe nur Bahnhof!" This is exactly how some people feel when they hear German native speakers...
Diğer öğretmenlere göz atın:
Deneme Dersi
Tek Seferlik, 30 dakika