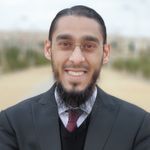 Abdelrahman Abdelrazek
埃及
•
10:04 AM (GMT+02:00)
關於我
Hello everyone, As-Salamu Alaykum (السلام عليكم)
My name is Abdurrahman, a native Arabic speaker, and experienced Arabic and Quran tutor, I have been teaching Arabic and Quran for more than 5 years.


Certificates:

-Bachelor's degree in Clinical Pharmacy from the Faculty of Pharmacy at Mansoura University in Egypt.

-Professional Diploma in Preparing Arabic Language Teachers for Non-Arabic Speakers From The Blended Learning Center Of Cairo University

-The Career Certificate in Teaching Arabic as a Foreign Language (CCTAFEL) from School of Continuing Education at The American University in Cairo (AUC).

-Preparation of teachers of Arabic for Non-speakers course From Adult Education Center of Ain Shams University in Egypt.

-Quran Sanad In A'asem Ibn Abi Al-najud Qira'a with his two Transmitters, Shu'bah and Hafs.

- I am doing my second Bachelor's degree in Arabic & Islamic Studies from the Faculty of Dar Al-Uloom- Fayoum University In Egypt.

- I am the Imam of Ibad Al-Rahman Mousque in Mansoura.

- I teach the Arabic language (Nahw, Sarf, Balagha, and Arood "the science of poem") and Islamic Studies (Fiqh Shafii, Hadeeth, Tafseer, and Seerah).

I am passionate about teaching Modern Standard Arabic and all of its sciences, such as "nahw," "sarf," and "blagha" for very long time. Nahw (نَحْو) focuses on words and the harakah ( حَرَكَة) on the last letter of each word in a sentence. Sarf (صرف) focuses on how different words are conjugated from one source and defines the harakah of every letter in a word, except the last letter. Balagha (بلاغة) means the science of rhetoric.

I can also explain and teach any Tajweed book (matn) such as Tohfatul Al-Atfal and Al-mokadema Al-jazareyya.

I have a good curriculum to start teaching you, but I can also guide you through any Arabic curriculum or your choosing.
so, whether you are a beginner or an advanced learner, you will find learning with me to be both easy and rewarding.

I enjoy the rewards of helping students to become more confident in speaking Arabic and reciting the Quran.
更多
老師統計資料
一小時內
4 年前
100.00%
10
5.0 平均課程數
新老師
履歷

學歷背景
Bachelor's degree in Arabic and Islamic Studies
Faculty of Dar Al-Uloom - Fayoum University - Fayoum City - Egypt
Focus in Arabic language sceinces (Nahw, Sarf, Balagha), Islamic sciences, History, Literature, Rhetoric & Criticism, and Philosophy
Professional Diploma in Preparing Arabic Language Teachers for Non-Arabic Speaker
The Blended Learning Center Of Cairo University - Cairo, Egypt
Professional Diploma in Preparing Arabic Language Teachers for Non-Arabic Speakers From The Blended Learning Center Of Cairo University
Bachelor's degree in Clinical Pharmacy
Faculty of Pharmacy - Mansoura University - Mansoura, Egypt

認證
Preparation of Teachers of Arabic for Non Speakers Course
Adult Education Center of Ain Shams University - Egypt
The Career Certificate in Teaching Arabic as a Foreign Language (CCTAFEL)
School of Continuing Education at The American University in Cairo - Egypt
Quran Sanad
Mansoura, Egypt
Continuous Chain linked to Prophet Muhammad (PBUH) in A'asim ibn Abi Al-Najud Qira'a
查看教授以下語言的更多老師::