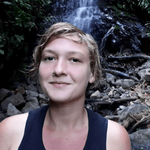 Sara Wright
尼加拉瓜
•
10:57 AM (GMT-06:00)
關於我
Hi! I'm Sara! I'm from the United States, so I'm a native English speaker with a neutral American accent! I currently live in Nicaragua, and I can also speak Spanish at an intermediate level.
I have years of experience doing EFL (English as a foreign language) tutoring. Most recently I was a teacher at an International School here in Nicaragua! I taught local middle school kids in small group EFL classes. I love my job!
I've been living and traveling in Central America for the last several years. I love learning different cultures and ways of life! I have some background working in hospitality and running an Airbnb, so I have a lot of experience speaking with people from all over the world, including travelers who don't speak English as their first language. I love getting to know people from different backgrounds!
I'm able to adjust my speech patterns, my vocabulary, and my general complexity of language to fit the level of the person that I'm speaking with or teaching.
I try to keep my lessons fun because I know how frustrating it can be to learn a new language! I like to incorporate games and songs. But I can also be very grammar-oriented and scholarly, depending on the personality and skill level of the person I'm teaching. It's very important to me to recognize someone's learning style and teach to their strengths.
Besides speaking and practicing pronunciation, I like to use tools like whiteboards, pictures, flash cards, reading materials, review questions, etc. Whatever helps you learn the best! I'm here for you.
Most important to me is I want to help teach CONFIDENCE! I believe that we can all do whatever we set our minds out to do!
I'm a very patient and tolerant person, and I believe in the power of a smile. :)
Thanks for reading! I can't wait to chat with you!!!

更多
老師統計資料
幾個小時內
4 年前
100.00%
1 503
51.4 平均課程數
5.0
履歷

學歷背景
46 Credit Hours
University of North Carolina at Chapel Hill - North Carolina, USA
46 Credit Hours, Focus on Languages (English, French, Latin, Etymology)
Graduated Valedictorian
New Bern High School - North Carolina, USA
Valedictorian of 365 pupils. 4.0 GPA unweighted, 4.9 GPA weighted

工作經驗
EFL (English as a Foreign Language) Teacher
已認證
San Juan del Sur International Day School - San Juan del Sur, Rivas, Nicaragua
Lead teacher for the school's EFL program for middle school students
ESL Tutor and Youth Activities Coordinator
El Mercadito de la Isla - Isla Ometepe, Rivas, Nicaragua
Coordinated educational activities for island youth
ESL Tutor
Barrio la Planta Project - San Juan del Sur, Rivas, Nicaragua
Volunteer teacher of ESL to Pre-K students
Local Education and Outreach Coordinator
School for Field Studies - South Caicos, Turks and Caicos Islands, BWI
Taught and coordinated educational activities for island youth
查看教授以下語言的更多老師::