Edouard is not accepting new students.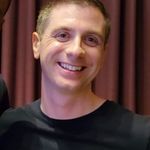 Edouard
فرنسا
•
1:35 AM (GMT+01:00)
يتحدث
متحدث أصلي
,
C2
,
C1
,
B1
عني
**TAKING NEW A2+/B1/B2/C1/C2 STUDENTS** Bonjour! My name is Edouard, I am a Certified French Teacher from France with over 17 years of experience. My goal is to help you reach your objectives as fast as possible: DELF/DALF exam, French for business, or simply improve your conversation skills and pronunciation.

I focus on oral French during the lesson so that you can practice your French with me. I will also help you learn (or review) the basics of French if you need to and answer any questions you may have about grammar and syntax.

I can give you a weekly program (tailored to your schedule) with authentic material you can watch or read that will help you stay on target and improve in between classes. If your goal is to prepare for a DALF or DELF exam, we will prepare the test together to make sure you pass it successfully.

Here are 5 principles that will help you improve your French really fast so you can take the next step in your life:

1 - LANGUAGE IMMERSION: I use authentic documents during my lessons and in-between classes to make sure that you are learning French we actually speak in France. If you are also preparing for an exam (DELF, DALF, etc.), we will use some material used for these exams.

2 - ACTIVE COMMUNICATION: my lessons are made so that you are the one doing the talking. This is the best way for you to reach fluency fast. Also, I only speak in French during the class (I use English sparingly to "unlock" difficult concepts if needed)

3 - CUSTOMIZATION: You will learn faster if you are interested in the material. What's your passion? Sports, travel, cinema, dance? Feel free to communicate and I will adapt my lessons to your needs.

4 - DELAYED ERROR CORRECTION: Find out what wasn't correct later. I will provide you with personalized feedback at the end of our lesson, highlighting your main mistakes and how to correct them.

5 - SHARING MY OWN EXPERIENCE AS A LANGUAGE LEARNER: I will share the tricks and tips that helped me to master both English and Portuguese at a proficient level.

To start learning French effectively, make sure you have:
1. A stable internet connection;
2. Good quality audio equipment. A headset is ideal so that we can hear each other properly;
3. A quiet place and a rested mind.

Please feel free to book a trial lesson or ask any questions.

I hope to meet you soon,

Edouard
قراءة المزيد
دروسي التجريبية
The aim of our trial lesson is to understand your specific needs and establish the goals that will help you reach fluency in French as fast as possible. We will talk about the different methods that you can implement in your learning habits to better understand French and become fluent at a much faster rate.
قراءة المزيد
درس تجريبي
One time, 30 minutes
Teacher Stats
Within a day
منذ ٤ أعوام
100.00%
1.486
31.1 lesson average
5.0
خبرات التدريس
فوق المبتدئ
متوسط
فوق المتوسط
السيرة الذاتية

التعليم
Bachelor Degree GB/US Language and civilization
Paris 8 University - Paris, France
Language, syntax, semantics, history. Teaching French to foreigners.
Bachelor Degree in Arts - Cinema
Paris 8 University - Paris, France
Directing, editing of short movies, history of cinema, writing of scenarii.

خبرة العمل
French Teacher
Verbling - Brasilia, Brazil
Online French Teacher and language consultant
French Teacher
London Speaks French - London, UK
Private French Teacher - beginner to advanced level

شهادات
Certification d'enseignement du Français Langue Etrangère - Parcours Avancé
CAVILAM - Alliance Française de Vichy - Vichy, France
Certification de suivi pour l'enseignement du Français Langue Etrangère
Certification d'enseignement du Français Langue Etrangère - Parcours Découverte
CAVILAM - Alliance Française de Vichy - Vichy, France
Certificat de suivi pour l'enseignement du Français Langue Etrangère
الق نظرة على مزيد من المعلمين:
درس تجريبي
One time, 30 minutes