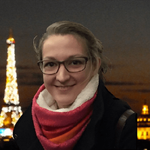 Pauline Grelier
المانيا
•
4:14 PM (GMT-05:00)
يتحدث
متحدث أصلي
,
C1
,
C1
,
B1
,
A2
,
A1
عني
Hi everybody! Nice to meet you!
French learning by practicing in an enthusiastic and interactive spirit with an experimented French mother tongue trainer. Because a language is closely connected with many other cultural dimensions (habits, history, songs, literature, way of thinking, etc.), I propose you to dive deeply into the French environment during the lesson: it makes the learning process easier, funnier and more useful in your French daily life. Successful methods guaranteed: my dedicated students make significant and quick progress. You won´t be at a loss with the words* and you´ll be soon involved in Voltaire´s language adventure!
*switch to the French phrase: « Ne pas avoir sa langue dans sa poche » (literally: don´t keep one´s tongue in one´s pocket)

<A language, a culture… and a method>
As I like discovering foreign cultures and travelling, I speak English and German fluently, I understand Spanish and I´m currently learning Arabic and Hebrew. My knowledge in languages can facilitate the communication with my students. I've lived in several countries in Europe, mostly in Germany where I've worked. I'm interested in art, literature, history, social topics: I consider approaching a culture way of thinking enables us to improve our language capabilities more naturally and quicker.

<A method approved by experience>
I've studied humanities (literature, philosophy, history…) and didactic methods. Then I developed my pedagogical practice, as I taught a very large spectrum of students, from different origins and all levels: preparation of school exams for teenagers and children, alphabetization or conversation courses for adults. I've created an E-learning platform, full of didactic resources, also useful for official exams for immigration and nationalization (DELF, DALF, TFI, TCF, TEF Canada).

<Your request, our goals. Learning with enthusiasm>
My lessons are based on cultural aspects: songs and movies as teaching supports, anecdotes, true stories, debates. Thus, you learn with enthusiasm what you really need in your daily life, without noticing it. According to your needs and goals, you'll benefit from didactic tools of any type (audio, reading, grammatical theory, website for education). Individualized lessons preparation, exercises correction, study tips are included. Full involvement and dynamism are expected from the students.
قراءة المزيد
درس تجريبي
One time, 30 minutes
Teacher Stats
Within a few hours
منذ ٦ أعوام
100.00%
5.755
22.2 lesson average
4.9
خبرات التدريس
فوق المتوسط
مُتقدم
فوق المتقدم
السيرة الذاتية

التعليم
Agregation preparation
University Paris I - Paris
MA Historical, philological and religious sciences
Ecole Pratique des Hautes Etudes - Paris
MA European Politics- Double diploma
IEP and European university Viadrina - Strasburg and Francfort/Oder
political sciences, economy, law, history
BA equivalence- Preparatory class for French high school (CPGE littéraire)
Lycée Fénelon (Paris) - Paris
literature, languages, history, philosophy

خبرة العمل
FLE teacher
freelance/social associations/langage schools - Paris, Munich, Montreal
As FLE teacher for young migrants groups from different origins, I've learnt to use efficiently my theatrical skills and to build a strategy on this method to teach basic linguistic situations. As freelance, I've provided support for the preparation of high school graduates and I carried out remote courses, on a very regular basis, for foreign children in primary school; I've created an E-learning platform in moodle to let my students get a quicker access to didactic tools and documents.
philosophy animator/teacher
Francas - Paris
Goal of this activity for children in primary school was to make pupils think by themselves, to develop self reflection and critical thinking. To achieve this objective in a both interactive and reflexive atmosphere, structured philosophical debates have been organised.
Literature teacher
Lycée Monge - Paris

شهادات
Zertifikat für Mehrsprachigkeit
UFA - Saarbrücken
BAFA- Animation leader certificate
UFCV - France
الق نظرة على مزيد من المعلمين:
درس تجريبي
One time, 30 minutes