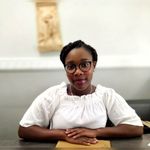 Sandra Okosun
المانيا
•
3:32 PM (GMT+01:00)
يتحدث
متحدث أصلي
,
متحدث أصلي
,
B1
,
B1
,
B1
,
A2
,
A2
,
A1
,
A1
عني
I am Miss. Sandra, I am 22 years old and I've been teaching for 2 years now. I am a German and Nigerian native, therefore I'm fluent in English and German.

Let's see what's so special about my class ➤
❤️ My class has a very fun and exciting atmosphere because it's easier to learn a language when it's more fun.
❤️ There will be so many opportunities to correct your pronunciation and phrasing.
❤️ I have a huge amount of passion and patient and will work hard to help you in anyway you would like to improve
❤️ I will help my students to get closer to their goals!
It's definitely worth a try ❤️!
I have many years of experience in teaching German: Teaching children, teenagers, adults, students, and diplomats.

👉 Relaxed atmosphere: I often use encourage my students to help them learn better and be more confident in speaking.

The best learning outcomes 👉: Even if a student is at a beginner's level of German, if you have the opportunity to have me help you, you can learn German the way you like!

【📌Notes for students📌】
📌If you cannot come to class as planned, please cancel the class at least 24 hours in advance otherwise there will be no refund.
📌 If the student does not show up within 15 minutes of the class, it will be treated as an absence, and will not receive a refund.
قراءة المزيد
دروسي التجريبية
【💠Trial (30 minutes) 💠】
✔️Know your learning goals
✔️Know what you want to improve on
✔️Show you the Materials used to teach
✔️Experience my teaching style
قراءة المزيد
درس تجريبي
One time, 30 minutes
Teacher Stats
Within an hour
منذ عامين
99.00%
818
17.2 lesson average
4.9
خبرات التدريس
فوق المتوسط
مُتقدم
فوق المتقدم
Austrian German
Standard German
السيرة الذاتية

خبرة العمل
Linguistic
University of Bremen - Germany
The goal is to learning about how languages are formed. It's also the scientific study of human languages, its structure, its history, its acquisition and its use in communication.
الق نظرة على مزيد من المعلمين:
درس تجريبي
One time, 30 minutes