Hace un par de semanas hubo una reunión familiar en casa de uno de mis primos del lado de mi papá. Éramos más o menos 30 personas entre tíos, primos y sobrinos; faltaron varios... en realidad si hubiera estado toda mi familia paterna habríamos sido alrededor de 60, pero aun así se puso buena la cosa y se armó buen ambiente cuando llegó la música: un dueto, un cantante con guitarra y otro con guitarrón que cantaban de todo, pero de toooodo, ¡hasta rock and roll!.
Contrataron un dueto porque se trataba de una reunión pequeña, si hubiera sido más grande o si hubiéramos estado festejando algo importante (porque la reunión se hizo sin motivo especial), seguramente habrían llevado mariachi. En bodas, bautizos, graduaciones... es común tener mariachis; sin embargo, hoy les quiero contar un capítulo especial de cómo la música tiene un papel protagónico en la vida de los mexicanos: las serenatas.
El formato tradicional de una serenata es un hombre llevándole mariachi a una mujer al pie de su ventana (también las mujeres pueden llevar serenata, pero es menos común) y pidiéndole a los músicos que le canten una serie de canciones a la amada... a veces ellos se las proponen, a veces él ya sabe cuáles quiere que toquen; el hombre canta con ellos o hace como que canta... por eso casi siempre van un poco tomados, si no, no se animan, ja, ja. Las razones más comunes para llevar serenata son cumpleaños, aniversarios, próxima llegada de un bebé... que el joven algo hizo muy mal y tiene que disculparse muy bien. El motivo de la serenata determina qué canciones cantará el mariachi.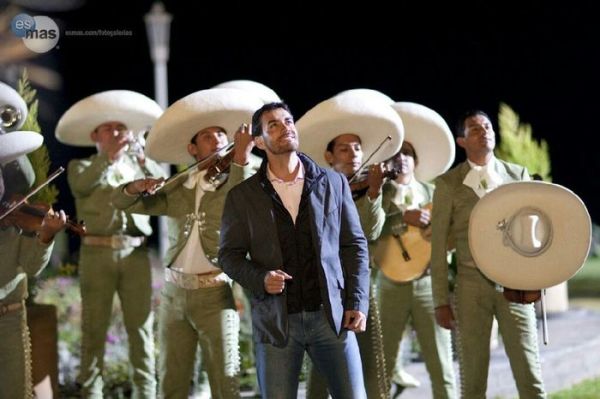 Ahora bien, se supone que la mujer está acostada cuando llega el mariachi a su calle; la música y el canto la despiertan y ella, medio dormida, se alegra o se enoja y decide si se dará una manita de gato y saldrá al balcón o se asomará a la ventana (dependiendo de qué es lo que tenga mirando a la calle)... o si no hará nada y esperará a que se marchen. Si prende la luz y sale, significa que le gustó el gesto del hombre y que acepta la felicitación o la disculpa; si no prende la luz ni sale, significa que no le agrada y que está enojada... en este caso, más le valdría al joven irse... algunas mujeres avientan agua o algo más para correr al susodicho.
A mí solo me han llevado serenata una vez en mi vida: mi exnovio de cuando tenía como 20 años. Habíamos roto en la tarde y en la noche me la llevó para pedir que regresáramos... y funcionó, je, je: volvimos. Tronamos definitivamente después de varios meses, pero el recuerdo de la serenata es uno de los más lindos que tengo de esa etapa de mi vida; algunas de las canciones que me cantaron (y que nos gustan mucho a los mexicanos) son:
"Niña amada mía" https://www.youtube.com/watch?v=psYMeSCtaUw
"Cielo rojo" https://www.youtube.com/watch?v=Vo8OMKptamw
"Si nos dejan" https://www.youtube.com/watch?v=XgkaOOM2yC0
"Nube viajera" https://www.youtube.com/watch?v=ZTPVeup5UFk
"Como quien pierde una estrella" https://www.youtube.com/watch?v=MXlwuZ_nEk0
La serenata más cómica que he escuchado fue la que un vecino le llevó a su esposa el año pasado. Llegó con el mariachi y empezaron a tocar "Perdón" (la pueden escuchar en https://www.youtube.com/watch?v=jDrjx64eZJQ)... al terminarla, volvieron a tocarla, ja, ja, ja... quién sabe qué habrá hecho el pobre para pedir disculpas con tanta insistencia... Resulta que, a la mitad de la segunda vez, llegó el guardia del fraccionamiento y les pidió que se retiraran, porque a esa hora ya no se permitía ruido en las áreas comunes... Je, je... mala noche para el amigo: no lo dejaron llevar bien serenata, no se asomó su esposa y sí tuvo que pagarle al mariachi la hora completa. Su "¡carajo!" resonó triste y fuerte por toda la calle.
November 27, 2019
लोग हमारी नहीं बल्कि हमारी उपलब्धियों की कद्र करते हैं।
Rajesh Bhaskar
December 6, 2019
The Language of The Heart
Nariman Doghoz
December 6, 2019
SIELE: características y modalidades.
Inma Fernández
December 6, 2019