Success in English Tests: TOEFL v TOEIC
Every year thousands of students around the world take the
TOEFL and TOEIC tests
, both created and administered by ETS in the USA, which are internationally recognized qualifications. They are not traditonal types of exams, where you pass or fail, but
language proficiency evaluations
. Both tests use a points system to give candidates a score that reflects their level of ability.
Many students have to do these TOEFL or TOEIC tests as part of their higher education study program or because it's required by their employer. However, some people have a choice and aren't sure whether one or both of these tests woud be beneficial for their future, for example, in their career. Others know they will have to take a test but don't really understand how it works or how to best prepare for it.
This is a situation many of my students are faced with, so I have written this article to provide answers to some common questions. I will also publish two more detailed articles on this topic this month,
Focus on TOEFL4Success
and
Focus on TOEIC4Success
, in which I will give you more detailed information and explain the best way to prepare for success in each particular test.
What is the purpose of the test?

What language skills does it measure?

What level in English do you need to succeed?

How is the test structured?

What do the test scores mean?
The
TOEFL
(Test of English as a Foreign Language) is specifically designed to
validate the level of English required for academic studies and campus life in an English-speaking university
environment, whereas the
TOEIC
(Test of English for International Communication) focuses on
evaluating the ability to use English for international business communication and everyday life in an English-speaking country
.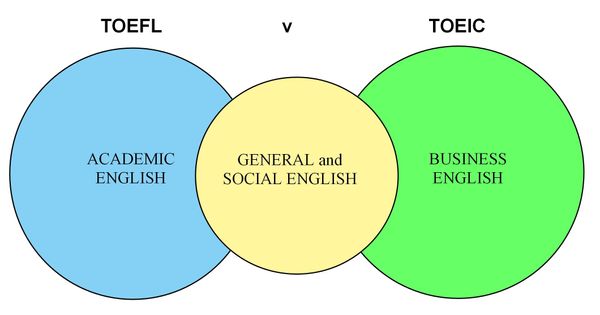 Measurement of Language Skills
The
TOEFL iBT
is a very comprehensive test as it includes
all four language skills
(
in this order in the test)
- listening comprehension, reading comprehension, speaking skills, writing skills. The last two sections require full responses rather than just simple multiple choice answers (
see 'Structure' for more detailed information
).
However, there are
two types of test for the standard TOEIC
, which is a multiple choice style test. The
most common
one is the
listening and reading TOEIC test
, as this is what many employers are interested recognise as an international standard for proficiency in English. The same applies for many 'esl'
(English as a second/foreign language
) students, for example, in the international business sector, who need a good score to get their Master's or doctorate etc.
There is a simpler version, called the
TOEIC Bridge
, which is really designed for
elementary level
students, as explained in the next section.
Although you don't pass or fail these types of test, you will need a
high intermediate leve
l, or above, in order to do well on the
TOEFL iBT
(
see 'Test Scores'
). This is because it is designed to check that you are capable of studying or working in a totally English-speaking academic environment. You should not only be able to communicate confidently in spoken and written English, but also be able to understand different English accents, in particular, American English. Even native speakers say this is a tough test if you don't prepare and practise well in advance.
Although candidates of any level,
from elementary to advanced
, can take the standard
TOEIC test
, the score you need to achieve will depend on why you are taking the test. For example, Master's students who need a score of 750 plus in (
see 'Test Scores
') should have a good intermediate level,
The
TOEIC Bridge test is easier
, because it is aimed at
elementary to low-intermediate
level students. So, you can take this test before you do the standard TOEIC.
Originally a paper-based test, it has been
Internet based
since 2005. You do the test at an official ETS center and it takes about 4½ hours to complete, including checking-in and a short break.
You have to do all four sections of the test online on a computer with a
QUERTY keyboard.
This may be a different layout to the keyboard you use in your country, for example, the AZERTY keyboard in France. So, it is a good idea to get familiar with the QUERTY layout in advance, for example, by changing the layout on your mobile/cell phone to practise. You will have
headphones for listening
to the recordings, and a
microphone
for the speaking
tasks. You are allowed to take notes on paper, but these are collected at the end.
The test starts with the reading and listening sections, containing multiple choice questions (MCQ), which take about 140 minutes in total to complete. Note: You either have a longer reading test or a longer listening test.
Reading: 60 - 80 minutes (MCQ)
3 or 4 passages/texts - allow 20 minutes per text.
Listening: 60 - 90 minutes (MCQ)
Mix of campus conversations (2 - 3) and academic lectures (4-6) - each recording is about 3 - 5 minutes long normally.
After a short break, you will have the writing and speaking sections which are more complex and take about 70 to 80 minutes to complete. These sections include integrated tasks, combining two or more skills (2 tasks with listening comprehension and speaking, 2 tasks combining reading, listening and speaking).
Speaking: About 20 minutes (6 tasks)
2 Independent tasks
(based on familiar topics, where you have to describe something or someone, give an opinion or express a personal preference)
4 integrated tasks
(2 based on campus situations and 2 academic lectures, where you need to summarize information, explain another person's opinion and one task where you must also express a preference).
Writing: About 50 minutes (2 tasks)
1 integrated task
- summarizing information (read a short text on an academic topic, then listen to a lecture on the same topic, then write your essay) - 20 minutes (150 - 225 words).
1 independent task
- expressing and justifying an opinion or preference about a subject (read a statement with a task question, then write your essay) - 30 minutes (about 300 words).
As the standard
listening and reading test is the most widely used workplace assessment for proficiency in English
, I will focus on this version. It is still a paper-based test with multiple choice questions, but you have to do this at an official ETS center, just like the TOEFL.
The test begins with parts 1 to 4 in the listening section, which lasts approximately 45 minutes, followed by parts 5 to 7 in the reading section, which takes 75 minutes. The organization of the listening and reading test sections changed in June 2018, although it still contains the same types of task as the previous version. Basically, there are now more questions relating to comprehension of conversations and talks in the listening section, and some more multiple passage text questions in the reading section.
Listening: 45 minutes (MCQ) - 100 questions
Part 1: Photographs (match correct description) - 6 questions
Part 2: Question-Response (match correct response) - 25 questions
Part 3: Conversations - 2 speakers (13 with 3 comprehension questions each)
Part 4: Talks- 1 speaker (10 with 3 comprehension questions each)
Reading: 75 minutes (MCQ) - 100 questions
Part 5: Incomplete sentences (correct word/s - grammar/vocabulary) - 30 questions
Part 6: Text completion (correct word/words - grammar/vocabulary) - 16 questions
Part 7: Reading comprehension
10 single passages/texts (2 - 4 questions each) - 29 questions

5 sets of double or triple passages/texts (5 questions per set) - 25 questions
Candidates are given a Test booklet, containing photos, texts etc. with a separate sheet to mark their answers on. You have to complete the answers on the sheet, using an HB pencil, and must not write in the booklet itself.
The test scores for both tests are only considered to be valid for up to two years, because your level of proficiency may change with time.
You will receive a score report from ETS, which shows a separate score of
up to 30 points for each section
as well as the total. The
total maximum score is 120 points.
You don't pass or fail the exam. However, many top universities and institutions require a score of 80/120 or more, with a score of
around 20 points in each section.
To achieve this standard, you would need to have a
high intermediate to advanced level.
You will also receive some useful feedback in your report. This will include a description of the tasks you are able to perform at your score level and advice on how to improve your skills. If you want to go to a university where the courses are in English, for example, to study for a degree, a master's or a doctorate (PhD), you will usually need to include your TOEFL score with your application.
TOEIC Listening and Reading Test
Just like the TOEFL you will receive a score report from ETS. The
maximum score is 950
points, based on the combined points from the listening and reading sections, on a scale between 5 to 495 points for each one. In general, a total score of at least
600 to 650
is considered necessary by many employers, to show you are a
ble to work effectively in an English-speaking work environment
. From an academic point of view; to obtain a
Master's degree
which incorporates English as part of its international program, the minimum acceptable score is usually
750
.
A few words of advice ...
It is clear that both tests are challenging. You not only need to achieve a specific level in English to get the score you have set as your goal, but you should also understand how to use the correct techniques to get the best possible result. In my opinion, based on years of experience in preparing students for these tests, an effective step-by-step study plan is absolutely essential.
Lots of students do their studies in group classes, while others work alone. In all cases, you may find that one-to-one tuition with a language trainer/coach can really help you better prepare for the test. For example, you can get specific feedback and advice on how to improve your personal test score in a section you find difficult.
Preparation and Practice are the Keys to Success!
I will talk about the best way to prepare in more detail in the articles on TOEFL4Success and TOEIC4Success, which will be published shortly.
Good luck with your studies! 👍
August 17, 2018
Success in English Tests: TOEFL v TOEIC
Mi vida antes del Covid- 19 (IMPERFECTO) A-2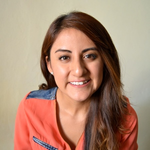 Alejandra Santiago
August 7, 2020
팔랑귀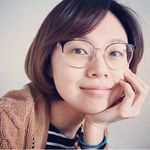 The Origins of popular English Idioms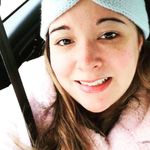 Jen Mc Monagle
August 7, 2020