Is SHEIN breaking the EU's chemical regulations?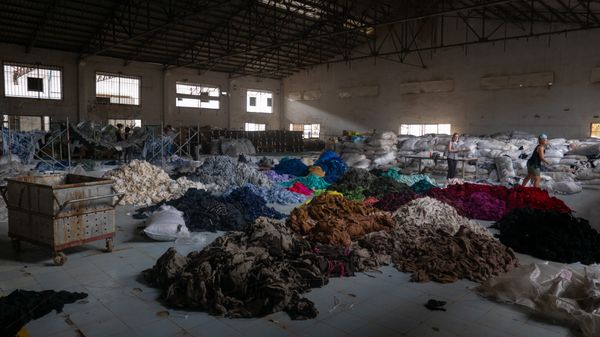 Environmental campaigners have claimed that clothes sold by fast-fashion giant SHEIN contain 'hazardous chemicals' breaching EU regulations. These chemicals threaten the health of consumers and ecosystems.
Greenpeace Germany's findings show that SHEIN's ultra fast fashion business model is based on hazardous chemicals, which are not being enforced by the authorities.
Greenpeace analyzed 47 SHEIN products and found that 15 contained 'concerning' levels of potentially hazardous chemicals, while seven contained levels high enough to breach regulations.
The EU has strict limits on chemical concentrations in clothes, but needs to "properly enforce" these regulations, Wohlgemuth said.
How else does the fast fashion industry impact the planet?
The fashion industry is responsible for more than 10 per cent of carbon emissions and consumes 100 million tonnes of oil every year. The demand for cheap items isn't slowing down, and companies like SHEIN profit from this cycle of constant consumption.
Environmental campaigners:

people who work to protect the environment by raising awareness and taking action

Fast-fashion:

clothing that is produced quickly and cheaply, often with a short shelf-life

Hazardous chemicals:

chemicals that can be dangerous to people or the environment

EU regulations:

rules set by the European Union that must be followed by member countries

Greenpeace:

an international environmental organization that works to protect the environment

Authorities:

people with the power to enforce rules and regulations

Concerning levels:

amounts of something that are potentially dangerous or worrying

Breach regulations:

not following the rules and regulations that have been set

Carbon emissions:

the release of carbon dioxide into the atmosphere
Source: https://www.euronews.com/green/2022/11/25/shein-fast-fashion-giants-clothes-breach-eu-chemical-regulations-greenpeace-claim
Photo: Francois Le Nguyen on Unsplash
🌍 Are you a
global citizen
who wants to
learn English while discussing world issues
?
🌱 Then book a trial lesson with me today!
https://www.verbling.com/teachers/bianca