Daniel님은 현재 새로운 학생을 받고 있지 않습니다.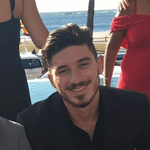 Daniel Xavier
남아프리카 공화국
•
9:20 AM (GMT+02:00)
나의 언어
원어민
,
C1
,
B2
,
A1
,
A1
,
A1
원어민 쌤 프로필
Are you looking to be more fluent in your next job interview, live in an English speaking country , pass English exams or to maintain your English through conversation?

English fluency is my speciality - I have my TEFL certification and years of experience with adults from around the world wanting to reach their English Language goals. In my class you will learn all the basic and advanced skills you need to sound like a true native.

In our classes, the main focus will be to get you speaking with excellent pronunciation and fluency, we will practice speaking about a wide variety of interesting topics and I will correct your every mistake,

My Background -

I live in Cape Town, I am a native English Speaker and I work in (I.T) Information Technology as a Full Stack Software Developer (Java and Angular).

I hold two degrees in Information Systems. I speak Portuguese , some Dutch and have studied German.

In my spare time I Travel, read on Psychology, Current Affairs, Cuisine, Spirituality, Religion, Culture, Politics, Language. I enjoy exercising; running, hiking and working out.

Are you ready? Lets go!
더 보기
시범 레슨
One time, 30 minutes
선생님 통계
24시간 이내
5년 전
100.00%
599
11.1 평균 레슨
5.0
원어민 선생님의 전문 분야
British English
Indian English
교육 경력

학위
Bachelors Honors Information Systems
Stellenbosch University - Stellenbosch , Western Cape, South Africa
Bachelors of Science Geoinformatics
Stellenbosch University - Stellenbosch , Western Cape, South Africa
Common Mistakes by Nationality The purpose of this article is for me to journal the common mistakes...
Hi All, I would like to share some resources for learning the English language. Videos: Cartoons:...
카테고리별 원어민 쌤 | 더 찾아보기:
시범 레슨
One time, 30 minutes