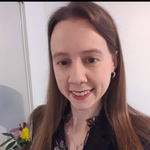 Jenna VanderBrook
미국
•
9:21 AM (GMT-05:00)
원어민 쌤 프로필
Hello! My name is Jenna and I am from Marion, New York. I am a motivated individual, looking to teach non-English speakers my native language. I am an expert at giving an intensive course for upper intermediate students looking to reach the advanced level quickly and efficiently. Please click on the Virtual Retreat Course for more information, I guarantee that you will love the idea of reaching the Native Speaker level soon!
In addition to the Virtual Retreat Course I offer a variety of other classes at a regular speed for the student who wants to take their time. It should be noted that any student who would like to work faster, that this is possible with any course. I have designed my classes in 2 ways: Intensive (2-4 weeks) guaranteeing that the student will improve 1 full level in this time or at a Regular Pace (2-3 months) also guaranteeing that the student will improve 1 full level in this time. One full level means: beginner to intermediate or intermediate to advanced, more specifically: A1 to A2, A2 to B1, B1 to B2, B2 to C1, C1 to C2, according to the global scale of measurement for language acquisition.

Please read below for more course information:

General Classes will focus on all of the major areas of language learning: reading, writing, listening, and speaking with a focus on grammar and vocabulary acquisition. General classes are available for all levels: beginner, intermediate, and advanced students. These classes are highly recommended for the beginner and intermediate level students.

Conversation classes will focus on improving speaking and listening skills, while focusing on correct pronunciation and fluency when speaking. Also, useful phrasal verbs and common idioms/expressions will be taught with the goal of acquiring that native speaker sound. Past students have shared that these classes are fun, thought-provoking, and that they feel ready for any real-life situation that may come their way. These classes are highly recommended for intermediate and advanced level students.

Interview Preparation classes will focus on what to do and say in the interview setting and how to present oneself well. Cultural tips for interview success will be provided as well as how to present one's ideas and goals clearly to the interviewee. If needed, resume writing and cover letter help will be provided. It is important to note that I have past experience translating resumes from Spanish to English and editing resumes, cover letters, and presentations with great success. Each of my students who have taken this type of class with me have obtained the job they were always hoping for!

Teacher Preparation classes are designed for non-native English teachers looking to improve their skills for their students in whatever country they are working in. I have had great success helping my fellow colleagues with understanding common expressions and idioms and complex grammar structures. These teachers then go on to impart this knowledge to their students feeling confident in their abilities.

Test preparation classes will focus on the specific skills of the test: for instance I have experience teaching test preparation for the TOEFL, SAT, and ACT exams. Students walk away from these classes feeling confident, prepared, and ready for the exam.

I have 10 years of teaching experience with students of all levels and ages, from children to adults, from beginners to advanced. I enjoy using the Democratic, Cambridge, and 100% English Methods, all of which utilize real life scenarios, so that my students will have success in their daily lives. I have taught in the United States school system, home school and privately (internationally and nationally) and online classes.

As a bilingual person in Spanish and English, I understand the goals of the student at all levels. I too have passed through the beginner, intermediate, and advanced stages and at each level the principal goal has been to speak! Speaking is the most important goal in learning any language because without speaking then what is the purpose of learning the language? Language is designed as our principal way of communication. Therefore, I encourage you to book a free trial lesson with me, knowing that I've been in your shoes and I look forward to taking this journey with you. I hope to meet you soon!
더 보기
나의 체험 레슨
English Level Speaking/Reading Assessment
Discuss Goals
Plan for Future Classes
Student Questions/Assessment of Teacher
더 보기
시범 레슨
One time, 30 minutes
선생님 통계
몇 시간 이내
5년 전
100.00%
936
13.8 평균 레슨
5.0
교육 경력

학위
B.S. Social Work
Roberts Wesleyan College - Rochester, NY
Focus in Psychology and Sociology
A.S. Human Services
Finger Lakes Community College - Canandaigua, NY
Focus in Psychology and Sociology

경력

자격증
Summer Teachers' Course
Instituto Mexicano - Mexico City, Mexico
Focus in English and Teaching
카테고리별 원어민 쌤 | 더 찾아보기:
시범 레슨
One time, 30 minutes