5 amazing places to visit in Russia. What is your dream spot destination and why would you like to visit that place?
5 amazing places to visit in Russia. What is your dream spot destination and why would you like to visit that place?
1.
Lake Baika
l is a rift lake in Russia, located in southern Siberia, between Irkutsk Oblast to the northwest and the Buryat Republic to the southeast.
Lake Baikal is the largest freshwater lake by volume in the world, containing 22–23% of the world's fresh surface water. It is considered among the world's clearest lakes and is considered the world's oldest lake – at 25–30 million years. It is the seventh-largest lake in the world by surface area.
2.
Lena Pillars
is the name given to a natural rock formation along the banks of the Lena River in far eastern Siberia. The pillars are 150–300 metres (490–980 ft) high, and were formed in some of the Cambrian period sea-basins. The highest density of pillars is reached between the villages of Petrovskoye and Tit-Ary. The Lena Pillars Nature Park was inscribed on the World Heritage List in 2012.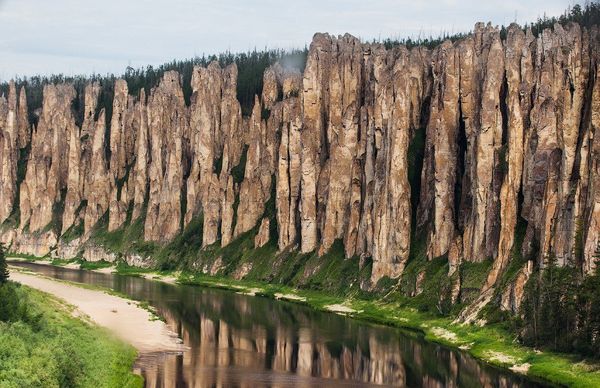 3.
Mount Elbrus
could be considered the highest mountain in Europe, notwithstanding the fact that Caucasus mountains are at the intersection of Europe and Asia, and the tenth most prominent peak in the world. A dormant volcano, Elbrus is in the Caucasus Mountains in Southern Russia, near the border with Georgia.
4.
Ruskeala
is a rural locality (a settlement) under the administrative jurisdiction of the town of republic significance of Sortavala in the Republic of Karelia, Russia.
Not far from the settlement, the Ruskeala marble quarries are located. The deposit was discovered in 1765 and has been in operation since 1769. The integrity of the massif of the marble was cracked in the 20th century due to the use of dynamite. For this reason some quarries were abandoned and inundated. Now these picturesque deep quarries and adits with limpid water serve as a popular tourist attraction.
5.
Dombai-Ulgen
is a 4,046-metre-high (13,274 ft) mountain of the Greater Caucasus and the highest point of Abkhazia, a state with limited international recognition otherwise seen to be part of Georgia. It is located on the border with Karachay–Cherkessia, an autonomous republic of Russia. The mountain is composed of gneiss, crystalline schist, and granite. Snow and glaciers cover the top at all times of the year.