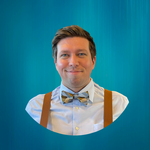 Gary Moore
США
•
8:48 PM (GMT-04:00)
Язык(-и) общения
Родной
,
A1
Обо мне
I help IT and business professionals to excel in English by improving their speaking and writing skills. My lessons focus on productive skills and they are productive in a way that improves fluency and pronunciation. I also focus on eliminating essential grammar mistakes that could potentially embarrass you.

I've helped students progress from the intermediate to the advanced levels of English and I am positive that with a consistent lesson schedule you will also experience these results.

I only teach students who are at least at the intermediate level. If you do not know your level of English, I can send you a free assessment.

𝗛𝗼𝘄 𝗹𝗼𝗻𝗴 𝗮𝗿𝗲 𝘁𝗵𝗲 𝗹𝗲𝘀𝘀𝗼𝗻𝘀?
***𝗟𝗲𝘀𝘀𝗼𝗻𝘀 𝗮𝗿𝗲 𝗮𝗻 𝗮𝗰𝗮𝗱𝗲𝗺𝗶𝗰 𝗵𝗼𝘂𝗿, 𝘀𝗼 𝘁𝗵𝗲𝘆 𝗮𝗿𝗲 𝟱𝟬 𝗺𝗶𝗻𝘂𝘁𝗲𝘀 𝗹𝗼𝗻𝗴. 𝗜 𝗱𝗼 𝘁𝗵𝗶𝘀 𝗳𝘂𝗹𝗹 𝘁𝗶𝗺𝗲, 𝘀𝗼 𝘁𝗵𝗶𝘀 𝗮𝗹𝗹𝗼𝘄𝘀 𝗺𝗲 𝘁𝗼 𝗼𝗳𝗳𝗲𝗿 𝘁𝗵𝗲 𝗴𝗿𝗲𝗮𝘁𝗲𝘀𝘁 𝗮𝗺𝗼𝘂𝗻𝘁 𝗼𝗳 𝗮𝘃𝗮𝗶𝗹𝗮𝗯𝗶𝗹𝗶𝘁𝘆 𝗮𝗻𝗱 𝗲𝗻𝗼𝘂𝗴𝗵 𝗽𝗿𝗲𝗽𝗮𝗿𝗮𝘁𝗶𝗼𝗻 𝘁𝗶𝗺𝗲 𝘁𝗼 𝗳𝗼𝗰𝘂𝘀 𝗼𝗻 𝗺𝘆 𝘀𝘁𝘂𝗱𝗲𝗻𝘁𝘀. 𝗧𝗿𝗶𝗮𝗹 𝗹𝗲𝘀𝘀𝗼𝗻𝘀 𝗮𝗿𝗲 𝟮𝟱 𝗺𝗶𝗻𝘂𝘁𝗲𝘀 𝗹𝗼𝗻𝗴***




Подробнее
Мои пробные уроки
My trial lesson will include a discussion about who you are and what your goals are. I will then make a question for you to answer that is related to your goals and designed to test your writing and speaking skills. After your response to that question you will receive constructive feedback so that you can improve your English.
Подробнее
Пробный урок
Один раз, 30 минут
Статистика учителя
В течение нескольких часов
7 лет назад
100.00%
2 940
13.0 уроков в среднем
5.0
Опыт и знания в обучении
Продвинутый
Суперпродвинутый
Резюме

Образование
Post Graduate Courses in Media Communications
Webster University and Regent's University London - Online and in London, UK
Relevant Courses Taken - International Communications / Media Communications / Strategic Communications / Media Organizations and Regulations
Summer in Spain
Life Experience - Sitges, Barcelona, and Madrid, Spain.
I summered in Spain for 6 weeks
Bachelor of Applied Science - Supervision & Administration
University of Central Florida - Cocoa, Florida and Orlando, Florida
Courses taken: Training and Development Management / Professional Writing / Professional Editing / Advanced Expository Writing / Advanced Argumentative Writing / Accounting / Business Law/ HR Management
Associate of Arts and an Associate of Science Degree in Paralegal Studies
Eastern Florida State College - Melbourne, Florida
Relevant courses taken: International Studies, Spanish, Legal Writing, Communications (Journalism and Literature) , Speech, and Humanities. I was also an Officer in the Student Government Association as well as a Cofounder and Vice President of the Finance Club.

Опыт работы

Сертификаты
160 Hours of Certifications from TEFL Fullcircle
TEFL Fullcircle - Online and based in London, UK
Advanced Certificate in Teaching English as a Foreign Language which included a 40 Hour Advanced Certificate in Teaching English to Young Learners Specialization
150 Hours of Certifications from Premier TEFL
Premier TEFL - Online and based in Cork, Ireland
Course included relevant specializations: 30 Hours of Business English, 30 Hours of Teaching English Online and 30 Hours of Advanced English Grammar
Просмотрите профили других учителей, выбрав нужный аспект:
Пробный урок
Один раз, 30 минут