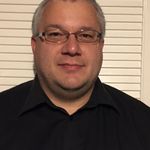 Patrick Kelaiditis
Новая Зеландия
•
10:15 AM (GMT+13:00)
Язык(-и) общения
Родной
,
A1
,
A1
Обо мне
Hello. I'm Patrick, a TEFL certified and professional/qualified/registered English teacher (in both Canada and New Zealand) with almost 20 years of experience teaching students of all ages and backgrounds in both formal and informal settings. I can help you with the following (and much more): test preparation (experienced in IELTS, CELPIP, Cambridge, Pearson, GESE and TOEFL preparation); pronunciation and grammar assistance; accent reduction; meaningful conversations with vocabulary assistance; Business and Academic English; reading and writing comprehension and practice. I look forward to being able to help you in your learning journey with lessons tailored to your individual needs, as we work together to improve your skills and confidence in using English.

Learning can be both challenging and interesting at the same time, so I personalize a lesson as much as possible. My style is based on patience and instructional scaffolding, just as I would do in my classes in a formal school, so learners of all abilities always have a chance to improve as we gradually and methodically develop your vocabulary, comprehension, pronunciation, and grammar skills, as well as your abilities in reading, writing, and listening. At the same time, classes move quickly once either a foundation for learning has been established or work has been mastered, using a mix of discussions and questions, listening and writing exercises, activities from various textbooks, pronunciation practice, vocabulary building work, and presentations of various types.

So, if you need help studying or a test or to succeed in your chosen field of work, would like to improve your abilities as a beginning student, or simply want to have a chat to maintain and improve your conversational abilities, I look forward to hearing from you soon!

* I also teach lessons for classes of students, so please feel free to ask about this, and other teaching options, if you are interested.
Подробнее
Статистика учителя
В течение нескольких часов
7 лет назад
100.00%
3 138
27.1 уроков в среднем
5.0
Опыт и знания в обучении
Начальный
Выше начального
Средний
Выше среднего
Продвинутый
Суперпродвинутый
American English
British English
Canadian English
New Zealand English
Резюме

Образование
Bachelor of Education
Подтверждено
University of British Columbia - Vancouver, BC, Canada
Bachelor of Arts
Подтверждено
University of British Columbia - Vancouver, BC, Canada
English and Political Science major

Опыт работы
Teaching Principal
Gorge Road School - Invercargill New Zealand
Homeroom Teacher of all subjects; headmaster of school
Teaching Principal
Aka Aka School - Auckland New Zealand
Homeroom Teacher of all subjects; headmaster of school
Teacher
Aka Aka School - Auckland New Zealand
Homeroom Teacher of all subjects
Teacher
Onewhero Area School - Auckland New Zealand
Homeroom Teacher of all subjects
Teacher
ACG Strathallan - Auckland New Zealand
Homeroom Teacher of all subjects
Teacher
Chong Ming Elementary School - Tainan Taiwan
English Teacher of all subjects
Teacher
Various language Institutes and businesses - Tainan Taiwan
Teacher
Kim Suk Middle School - Changwon South Korea
Teacher
E2 Language Institute - Changwon South Korea
Teacher
Various language institutes; private work - Tokyo Japan
Teacher
Various language institutes - Daegu South Korea
Просмотрите профили других учителей, выбрав нужный аспект: