过期时间:

04:08:41:57

(剩余优惠券: 55)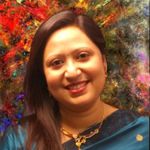 Kusumika Mukherjee
印度
•
8:43 PM (GMT+05:30)
1, This coupon is applicable for the new students only.
2. This coupon can be used multiple times by a single user.
3. This coupon has a limited validity.
关于我
👩‍🎓 First-Class Masters in English | TESOL Canada | IELTS Train-The-Trainer by British Council | EdLEAP by IIM Calcutta | OOPT C2 in English by Oxford
🔊 Speak Bengali fluently in weeks, not in years!
📈 I personalize apt course plan based on your requirements
💻 1000+ PPT Slides, designed by me, for streamlined course delivery
🎯 Join Kusumika's Classes and achieve your goal with a globally acclaimed, 22+ year-experienced tutor!

Me as a Teacher:
👩 I am a Certified Professional Tutor from India, teaching adults and children worldwide.
🥇 I have a First Class Masters in English, TESOL Canada, British Council's IELTS TTT, Oxford OOPT C2 in English and I am an IIM Calcutta EdLEAP Alumna.
🚩 22+ years of experience in teaching helps me in understanding the needs of individual students clearly and customize their lessons.
👪 I like meeting people from across the world and enjoy the exchange of ideas and experiences that take place.
👀 I focus on familiarizing my students with the local culture and different regional accents used.
🙏 Every class to me is an opportunity to assist my students in learning things that they want to learn.

My Teaching Style:
👩‍🏫 I'll help you level up your language level by learning vocabulary, perfecting pronunciation, and achieving fluency
💡 I'll provide worksheets based on your current level and conduct practice drills regularly
📚 I'll simplify the grammar rules for you to understand
🧒 For children, I'll devise Games, Quizzes, Animations and use vibrant e-books to make the lessons interesting
👂 I'll develop your Listening skills by narrating short stories & Indian mythologies
✍ I'll give home assignments, audio-visual resources, PPTs & PDFs, and I'll have discussions & debates, Role-plays and conversations on the topics you choose
😀 I am quite flexible in my teaching style and have a friendly approach

更多
我的体验课
🧒🏻 Come join my Trial Lesson!

🤔 What to expect in this 30-minute trial?

✔️ Plot your learning plan with me
✔️ A detailed analysis of your current level
✔️ An interactive mini-lesson for you
✔️ Simple but effective learning methods
更多
教师数据统计
一天之内
4 年前
94.00%
185
12.7 课程均价
5.0
简历

教育
Masters in English
IGNOU, Government of India - New Delhi, India
British and American Literature
ISC
Calcutta Girls' High School - Kolkata
Passed 12th Standard with 78% marks in Bengali
B. Com
University of Calcutta - Kolkata
ICSE
Calcutta Girls' High School - Kolkata
Passed 10th standard with 76% marks in Bengali

工作经历
Distributing Partner of Inspirit Platform providing Virtual Labs
Inspirit Learning Inc. - Atlanta, Georgia State of US
Inspirit is the US based edutech startup founded by Standford University and Georgia Tech researchers. I am the distributing partner of Inspirit platform which provides Virtual Labs based on immersive technology to STEM learners worldwide.
Freelance Tutor
Shikshapath - New Delhi
I teach English to students studying the IGCSE, ICSE and CBSE curriculum from Grade 7 to Grade 12. I help in their homework assignments and also take regular revision tests to gauge their progress. Developing their basic linguistic skills is the key area of my responsibility.
Verbal Faculty
Hola Maven - Udaipur
I have been providing training to the students for SAT, ACT, GMAT, GRE tests.
Freelance Trainer
Akshar.io - Kolkata
I teach students in my classroom at Kolkata. I train aspirants in Spoken English, IELTS, TOEFL, SAT, ACT, GMAT, GRE. I also teach Beginner to Advanced Level Bengali and Hindi Course which includes extensive discussion on Bengali Literature and cultural traditions. I also teach online to students from all over the world through Skype, Hangout, BOTIM and WeChat.
查看更多教授该语言的老师: