AUTUMN BUCKET LIST - DAY 10
SCATTA UNA FOTO AL PAESAGGIO
Are you passionate about photography?
That's your day on Autumn Bucket List for Italian language learners :-)
In this language we use at least 3 different verbs when we have a camera on our hands:
FARE UNA FOTO
(abbreviation for
FOTOGRAFIA
) --> that's the expression we use on general speaking; it's colloquial, common and very practical for occasional photographers (as we daily are with smartphones and compact cameras)
FOTOGRAFARE
--> that verb is as much ordinary as FARE UNA FOTO, but it adds a bit of professionalism to the simple gesture of random taking pictures; I would say that FOTOGRAFARE is a more "intellectual" way of using a camera (
MACCHINA FOTOGRAFICA
in Italian)
SCATTARE UNA FOTO
(or FOTOGRAFIA) --> is the very instant moment of pressing the botton in order to capture light and impress a fleeting beauty for ever; in other words it's that "clic-moment" that catches the image. That verb belongs to inattentive phone users as well to experts, but mainly to artists ;-)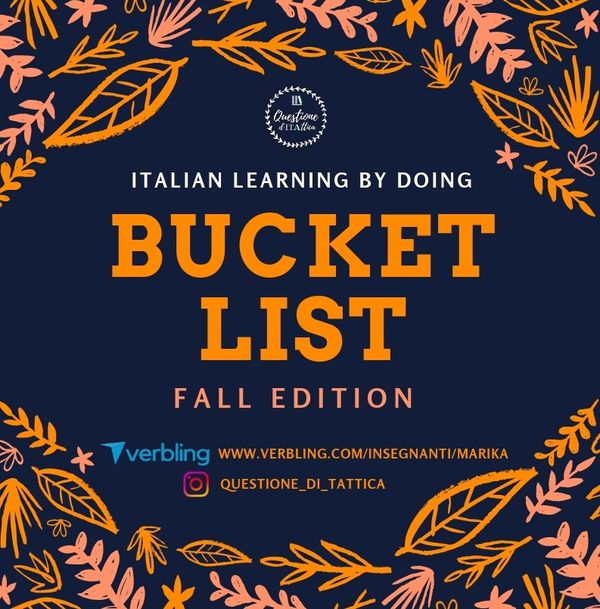 Will you take part to che Bucket List Challenge today?
Which photographer will you be?
FARE UNA FOTO AL PAESAGGIO
or SCATTARE UNA FOTO AL PAESAGGIO?
Let me know down here in a comment or on Instagram with #questionediliste
ONE MORE QUESTION FOR YOU !
"

Fare un selfie

" (to take a self portrait with a camera) has become such a popular habit in Italy, too and it's a common expression in Italian language as well...but do you know the real Italian word for SELFIE?
Here's a clue: it comes from the verb

SCATTARE

;-)