AUTUMN BUCKET LIST - DAY 12 and DAY 13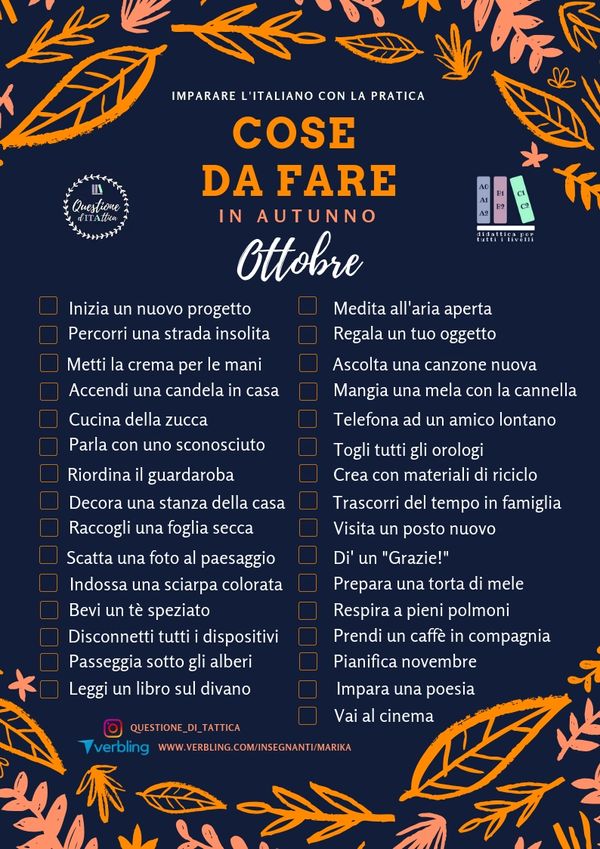 BERE
is one of those
irregular verbs
that you never know how to use correctly but that are at the heart of our survival as human beings!
Equally, drinking tea during Autumn it's something crucial for people like me :-)
What I like the most is green tea (
Tè verde
), black tea (
Tè nero
) and spicy tea (
Tè speziato
) with ingredients like cinnamon (
cannella
), ginger (
zenzero
) and cloves (
chiodi di garofano
).
DISCONNETTI TUTTI I DISPOSITIVI
DISCONNECT ALL YOUR DEVICES
How important is for you to regularly turn your devices off? With "
DISPOSITIVI
" (DEVICES) I mean
TELEFONI
(phones),
COMPUTER
(personal computers),
PORTATILI
(laptops),
TABLET
(tablets),
TELEVISORI
(televisions) and so on...
Are you the kind of person that is always
CONNESSO
(CONNECTED) or do you take time every once in a while to just
DISCONNETTERE
(DISCONNECT) everything that holds you away from the present moment?
Right now I just invite you to take few seconds and observe this Italian verb:
CONNETTERE

vs

DISCONNETTERE
DIS- is a prefix that most of the time means the lack or absence of something. That's why verbs with/ without the prefix DIS- can be antonyms!