AUTUMN BUCKET LIST - DAY 14 and 15
PASSEGGIA SOTTO GLI ALBERI
Take a walk under the trees
PASSEGGIARE
is one of the healthiest activities I practice when I have free time to dedicate to myself or I need to slow down from ordinary life.
When we use this Italian verb we mean a slow and relaxed walk around - in nature or along the city streets - and most of the time that's without a specific destination or direction; we just walk - alone or with the company of a walkmate - with quiet steps.
PASSEGGIARE = FARE UNA PASSEGGIATA
IO PASSEGGIO - FACCIO UNA PASSEGGIATA
TU PASSEGGI - FAI UNA PASSEGGIATA
LUI/LEI PASSEGGIA - FA UNA PASSEGGIATA
NOI PASSEGGIATO - FACCIAMO UNA PASSEGGIATA
VOI PASSEGGIATE - FATE UNA PASSEGGIATA
PASSEGGIA - FAI UNA PASSEGGIATA (TU)
PASSEGGIATA - FATE UNA PASSEGGIATA (VOI)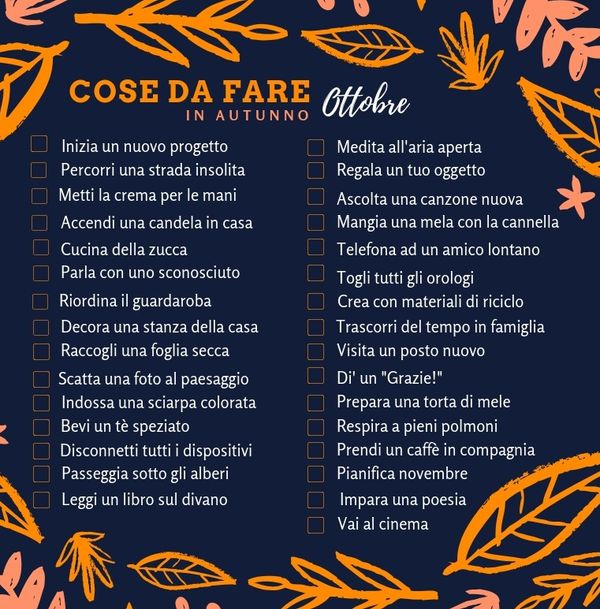 Here you can find more information about this Autumn Bucket List challenge to learn more Italian in a different funny way:
free
download
---> and how to get a coupon if you're interested in VERBLING LESSONS with me ;-)
LEGGI UN LIBRO SUL DIVANO
LEGGERE
is one of the abilities that we need to practice when we learn a new language, but it's also a healthy habit for our own cultural, spiritual or personal growth, whichever language we read! So when it's fall ouside, the most snuggling way to ensure me a long session of reading is on my couch, maybe with some hot tea, coffee or chocolate and a warm blanket.
SOTTO
GLI ALBERI --->
UNDER
THE TREES
SUL
DIVANO -->
ON
THE COUCH

UNDER: SOTTO and ARTICLE

--> SOTTO IL /SOTTO LO / SOTTO LA / SOTTO I /

SOTTO GLI

/ SOTTO LE
ON: SU + ARTICLE

-->

SUL

/ SULLO / SULLA / SUI / SUGLI / SULLE