AUTUMN BUCKET LIST - DAY 8 and 9
DECORA UNA STANZA DELLA CASA
DECORARE
is an Italian verb i feel very close to my personality: it means to embellish space through objects or the objects you keep in your own space through imagination and creativity.
What I've decorated on my 8th day of Bucket List Challenge are two spots of my home: my entry room (L'INGRESSO) and my living room (SOGGIORNO). If you're curious don't forget to check it on my Instagram page for Italian language learners ;-)
RACCOGLI UNA FOGLIA SECCA
Here is a very "social" verb in Italian language:
RACCOGLIERE
! It basically is a verb that we use when we PUT THINGS TOGETHER :-) like a sort of
meeting
(when people are involved) or a
collection
(when we talk about material things). But RACCOGLIERE is also an enriching action since it's the verb of
harvest
(when we deal with nature) and, more important today, is the movement of
picking up from the ground
.
When I was a child my grandma always used to warn me: "
NON RACCOGLIERE LE COSE DA TERRA!
" --> "DON'T EVER PICK UP THINGS FROM THE GROUND!"...it actually is a good advice, I believe :-)! But still, when Autumn arrives, there's kind of a magnetic force that push me to pick pine cone, wood sticks, acorns or
dry leaves
, especially those with bright orange, red and yellow shades - that by the way, are perfect in terms of home decor ;-)
Please notice: IO RACCOLGO / LORO RACCOLGONO are a bit different from the other subjects ;-)
And by remembering my family wisdom, have a look on how
NEGATIVE FORM of IMPERATIVE
verbs work in Italian:
NON RACCOGLIERE --> NON + INFINITIVE VERB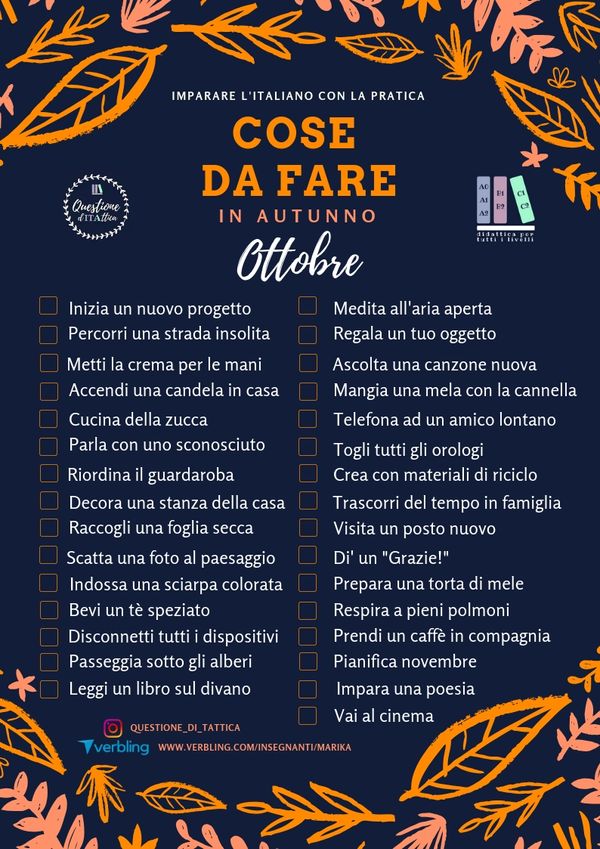 IL RESTO DELLA LISTA d'AUTUNNO PER IMPARARE (o migliorare) L'ITALIANO ;-)
THE REST OF THE AUTUMN BUCKT LIST TO LEARN (OR IMPROVE) ITALIAN ;-)