I give you 20 free Italian lessons for speaking, if you are able to translate this into English ! :D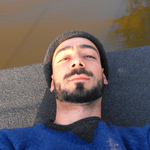 I give you 20 free Italian lessons for speaking, if you are able to translate this into English ! :D
Okay folks, here is my challenge:
I give you a short story in Italian and you just have to translate it into English, if you manage to complete the challenge I will give you, as a reward 20 free Italian lessons for conversing.
I warn you, this is no easy thing, that's a tough challenge, but you are free to try your luck !! :P
"Lo scorso sernio, Flinghedoro e Pribo stavano nel Nerdino, treppando cami glopi e clemando grepi borli, ecco che uno strezzo ditto bufa nel tresco di Flinghedoro. Pribo glappa e glappa. "Oh, Finghedoro" chita, "lo strezzo ditto tunna nel tuo grappo!".
Good luck - buona fortuna ;)
Looking forward to read your comments and reactions!!
In 24 hours I will post the solution of the enigma !
_____________________________________________________________
-------------------------------SOLUTION---------------------------------
Okay my dears, it's time for the solution :)
The paragraphed text is partly composed by actual Italian words and partly composed by plausible, but non-existing Italian words (mostly nouns, verbs, adjective and adverbs). It is
not a dialect
,
nor Sardinian
:P.
What you have been reading, is definable as a
metasemantic
short story. I have not composed this paragraph, I actually found it in a documentary about dyslexia, in which they were using this example as a mean to critically analyze what is usually defined to be the "correct" set of mental processes known as "
understanding
".
With this specific example, they showed that although
22 out of 40 words are non existing
(they do not convey an authentic semantic meaning), we can still trace the structure of this short story. Instead, we could say the opposite while reading a paragraph extrapolated from, for example, a very specific book of linguistics or programming language, of which we would possibly know every single word, but have no clue of what that is about.
Here's the list of the non-existing words:sernio - Nerdino - treppando (treppare inf.) - cami - glopi - clemando (clemare inf.) - grepi - borli - strezzo - ditto - bufa (bufare inf.) - tresco - glappa (glappare inf.) - chita (chitare inf.) - tunna (tunnare inf.) - grappo.
In fact, analyzing this story, we can identify its structure:
2. the two characters - Flinghedoro and Pribo
,
4. events (we do not know what happens, but we do know that something happens) - treppare, clemare, bufare and so on.
I would have loved to paste here the YouTube link of the documentary, but unfortunately it's not longer available.
Fosco Maraini
, wrote a whole collection of poems in which he applies, in a very lovely way, his interest for this aspect of verbal communication. You can read here his poem
Il Lonfo
and here you can see a very cute video of a small kid trying to repeat the "nonsense" poem :D.
I want to thank you all for your interest and patience, as a reward for your participation, I would like to offer, to whom is interested, a free lesson for conversing :)
The only thing, is that I am new here, and you should explain me how not to charge the price for a lesson :/